*Hosted by Alexa Loves Books*
I am so excited for this mini challenge! I absolutely LOVE looking at book photographs, it's definitely the main reason why I am on Instagram so much!! I am a bit late because I started organizing my books and playing around before I took pictures… and well nearly 2 hours were consumed by that haha. Also, I'm not the greatest photographer, so I just took these ones with my phone today. I'm still learning 🙂
My Bookshelves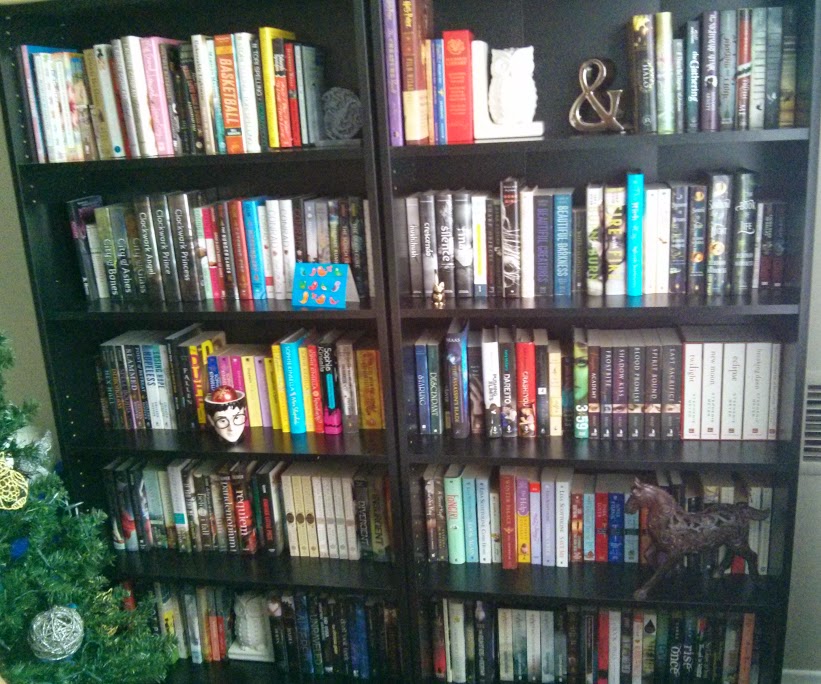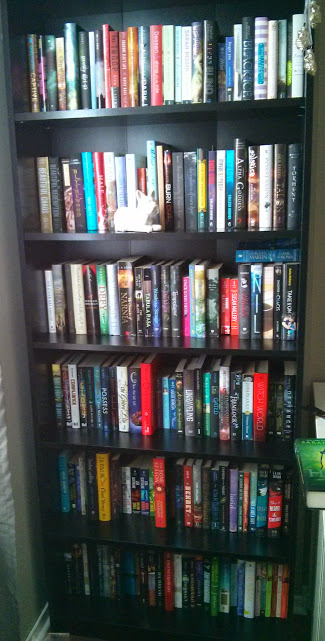 The first picture is my read books, and the second picture is my TBR shelf. I actually had to relocate some of my TBR to the bigger shelves today because there is too many of them (*hides*) so they are also on the bottom shelves over to the owl bookend. On the top left, I have all my read non-fiction, and next to that is my Harry Potter things 🙂 I have my other Harry Potter books at my parents house in Nova Scotia, so I am slowly re-buying them for my collection here!
Some of My All-time Favorites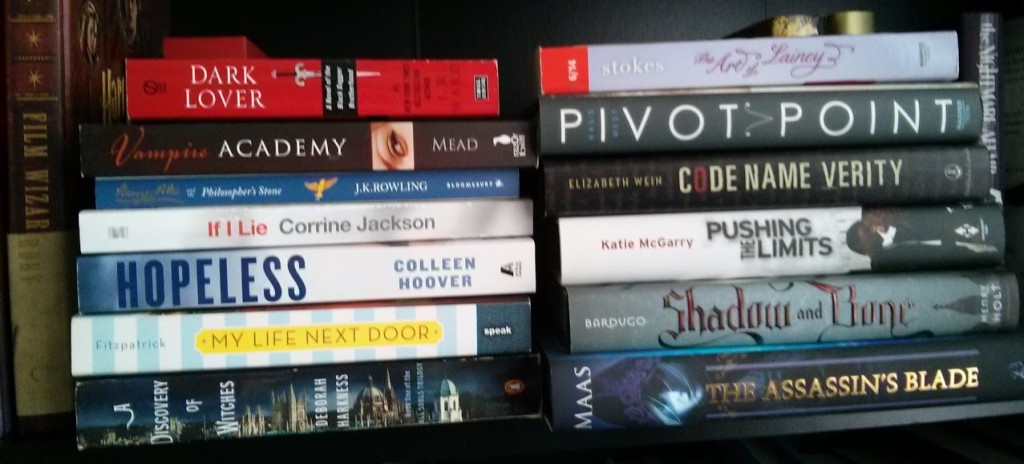 These are some of my all-time favorite reads! I had a hard time narrowing it done because I have a million favorites, but these are the favorites of the favorites!!!
Currently Reading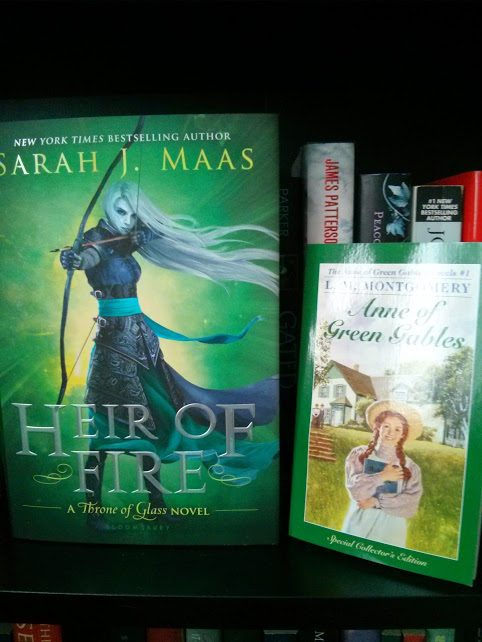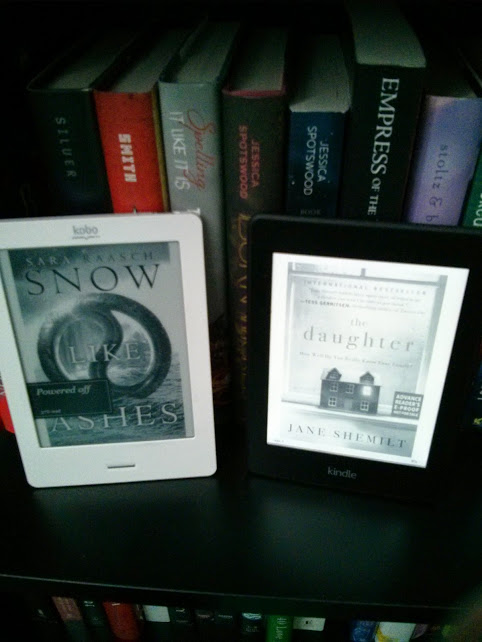 I always have a ton of books on the go so here is what I'm currently switching between! I am also listening to Bloodlines on audio, but I couldn't take a picture of that because it's on my phone 🙂
Most Treasured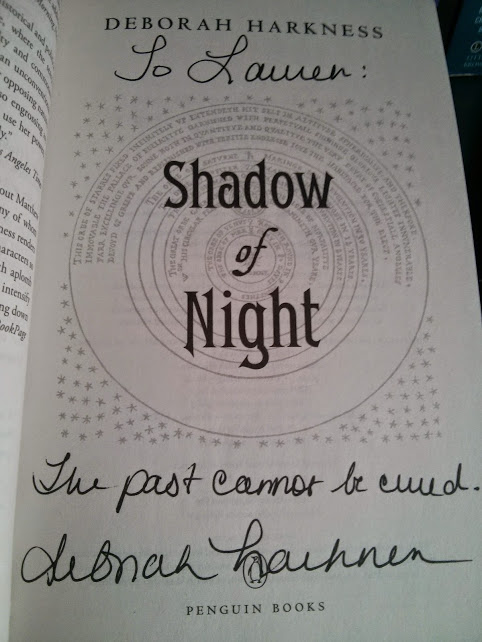 I met Deborah Harkness earlier this year and I can say that I can't imagine anything else book related topping this! EEK!
Beautiful Covers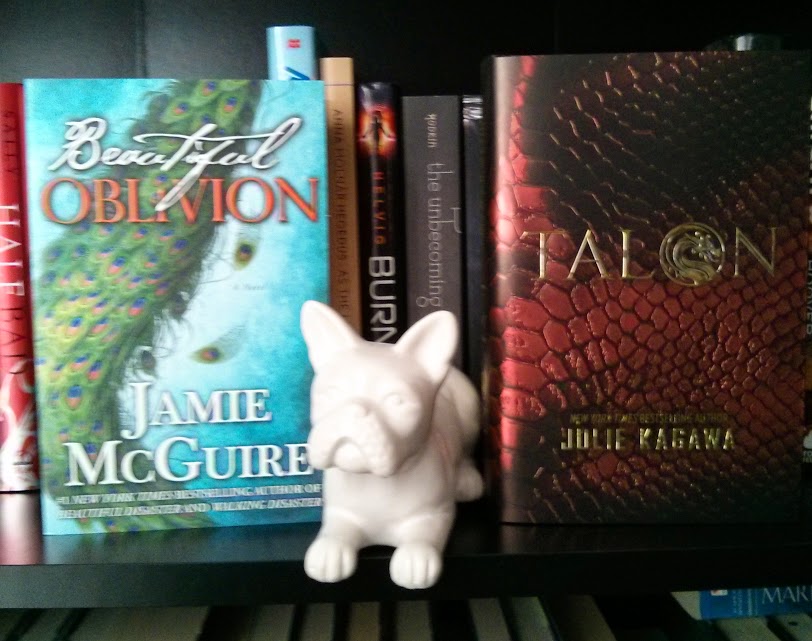 These are two of my favorite book covers that I own. I am obsessed with all things peacocks and AHHH. I love the cover for Beautiful Oblivion. The cover for Talon is spectacular. The texture of the scales… OMG. I'm currently on the hunt for book holders that I can display these two outwards (and a few other favs) because they are just too pretty to be sandwiched!
Bookish Favorites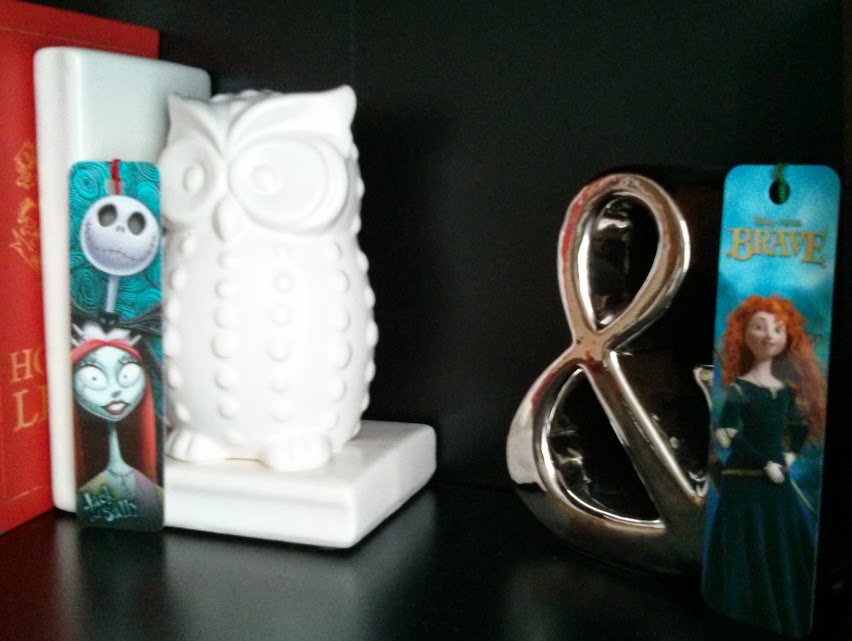 These are some of my favorite bookish things, my two favorite bookmarks, and my two favorite bookends. I collect all things Owls and ceramic animals so the combination had my screeching in the store when I seen this! I also love Ampersand's so I couldn't resist picking up this ornament which I use as a bookend. I love Jack & Sally, and Brave (she's my favorite Disney princess other than Belle) so these are my most used bookmarks of the bunch!
All done! What did you take pictures of?!
Do you have Instagram?! If you're interested in following me (for more pictures of books and cats haha), here I am!