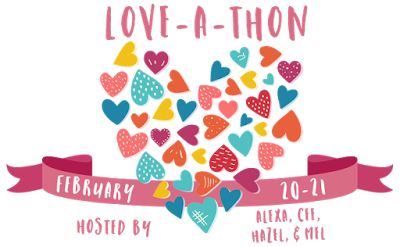 *Hosted by Alexa from Alexa Loves Books, Cee from The Novel Hermit, Hazel from Stay Bookish & Mel from The Daily Prophecy!*
WHEEEEE! It's time again for the Love-a-Thon! I've had so much fun participating in the past two years I didn't hesitate to sign up again. It's such a great way to spend time getting to know other book bloggers/Instagrammers/YouTubers. This weekend I don't have as much time to devout as I did in previous years but I will certainly be maximizing my time available and participating as much as possible.
The Love-a-Thon kicks off with the questionnaire so we can all get to know each other a little better so read on if you're interested!
1. What's your name?
Lauren!
2. Where in the world are you blogging from?
Ontario, Canada! I live in the suburbs outside of Toronto.
3. How did you get into blogging in the first place?
I used to blog years ago, but it was more of a personal blog… kind of where I just posted about my life. When I went to University though I didn't have enough time to continue for the most part so it slowly fell by the wayside. A few years ago I stumbled upon a book blog, which didn't even cross my mind as a possibility, and decided to give it a whirl! I've been hooked ever since!
4. How did you come up with your blog name?
I can thank my lovely sister for that! I am terrible at thinking of names so I was really struggling with it… I was ready to just go with something like Lauren's Book Blog because I was so fed up with wracking my brain for something creative. My sister saved the day and thought of Lose Time Reading and I completely fell in love with it. It fits me so perfectly… I lose hours sometimes just reading, thinking it's only been a few minutes and turns out to be a few hours!
5. What genre do you read and review the most on your blog?
Well… this has certainly changed a bit from when I first started! I definitely still read and review mostly YA but I have found in the past year (ish) that adult/new adult has slowly been creeping up as competition!
6. What other types of posts do you do on your blog, apart from reviews?
Well… right now, not too much 😛 I'm just getting back into blogging after being on a hiatus for a few months so I haven't gotten quite back into the swing of things yet. I post Top Ten Tuesdays, book hauls, wrap-ups, discussion posts… and hopefully more to come in 2016!
7. Best blogging experience so far?
Gosh, there have been tons honestly… it's hard to narrow down. I have made some really fantastic friends from blogging so that is definitely at the top of my list. I also have got to interact with so many authors and I would never have had that opportunity without blogging!
8. Favorite thing about the blogging community?
The friendships you make! And the conversations about books! I love that there are SO MANY people who completely understand my love for books and the need to squeal, and rave, and rant.
9. Name the 5 books you're most excited for this 2016!
Ohhh this question haha. I'm excited for so many books this year, and then on the flip side, I'm trying to stay away from hype a bit as well. That being said, here are 5 that I'm definitely looking forward too!
1. One True Loves by Taylor Jenkins Reid
2. P.S. I Like You by Kasie West
3. Tell the Wind and Fire by Sarah Rees Brennan
4. Throne of Glass #5 by Sarah J. Maas
5. Vicarious by Paula Stokes
10. Name the 5 books you want to read this 2016 that you didn't get to in previous years!
Haha, just five? That's cruel 😛 …
1. Queen of Shadows by Sarah J. Maas (ahh, it's true I haven't finished! I just keep putting it off because the wait… my heart…)
2. Siege & Storm by Leigh Bardugo
3. Winter by Marissa Meyer
4. The Good Girls by Sara Shepard
5. Secrets in the Grave by Karen Ann Hopkins
11. What's an underrated book or series that you think everyone should read?
Last year I read a lot of talked about books or hyped up books but the one that stands out in my mind is Every Last Word by Tamara Ireland Stone. I just think this book deserves so much more hype, it's absolutely beautiful!
12. Which book boy or girl would be your book BFF?
This answer doesn't change from last year: Caymen from the Distance Between Us. Love this girl! OH WAIT! Celaena of course, and Iseult (from Truthwitch!) .. LOVE THESE LADIES!
13. Which book boy or girl would be your book boyfriend/girlfriend?
I don't have an answer for this, which is so weird… but I feel like I have nothing new to bring to the table. I'll stick with one of the Black Dagger Brotherhood boys 😛 (And yes… I'll basically accept anyone of them as my book boyfriend haha).
14. Who would you recruit for your apocalypse squad (5 characters max)
Well, I'm fairly certain that between myself (who can run very fast but also can produce a siren like shrill that could stop enemies in their tracks :P), Celaena and Iseult that we could probably handle anything!
15. Apart from reading, what are your other hobbies or interests?
Crocheting & Knitting is definitely at the top of my hobbies at the moment. I also LOVE Yoga, running (ish – I have a love/hate relationship with running actually lol), cooking (which is really more like eating if I really think about it haha), and decorating & DIY (also known as Pinteresting… I think I spend more time searching for projects than actually doing them sometimes!).
16. Apart from book shopping, what else do you like shopping for?
I LOVE CRAFT STORES! Michael's is just… the equivalent to a maze of fun for me. I hate clothes shopping and mall shopping. I love shopping for things that most people do not find fun, like home stores (Home Depot/Ikea/Rona/Canadian Tire). I also really, really love grocery shopping and Costco!
17. At a party, the DJ suddenly changes the song – and it's your song. What song would be playing?
I have the most random taste in music… right now I am currently loving Sorry by Justin Bieber and have zero shame in that! Florence + the Machine is a favorite so anything by them and also Carrie Underwood!
18. Pick out either a book you want turned into a film/TV show, or a film/TV show you want turned into a book.
Ahh… this is hard. I would love to see some of my favorites played out on TV but I'm so hard to please so what if it ruined it for me? If I could be sure it was perfect… Throne of Glass!
19. What would your dream library look like?
Well, that's easy… the library in The Beauty and the Beast! Complete with Mrs. Potts, and company haha.
20. Author you want to meet and sit down to tea with?
Oh, well if it was guaranteed that I wouldn't pass out from sheer excitement and then subsequent embarrassment… Deborah Harkness. I'm a nervous wreck!
Phew, done and done! Please leave a link to your questionnaire in the comments and I'll be sure to pop over to see you!