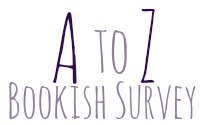 Jamie from The Perpetual Page-Turner has created this fun bookish survey!
EEPS! I love surveys, especially book related ones! When I got home last night and seen that Jamie had created this fabulous survey I HAD to do it; I love her "End of Year Book Survey" so I knew I would love this one too!! If you want to do it, make sure to pop over to Jamie's website and link up to her!
Author you've read the most books from:
Well other than Ann M. Martin(but I won't include her because that was YEARS ago), it is Sophie Kinsella! I've read 11 of her books written as Sophie Kinsella and another 3 written as Madeline Wickham!
Best Sequel Ever:
This question is not so easily answered, seriously! It's going to have to be a tie, Goblet of Fire(Harry Potter #4) and Pandemonium by Lauren Oliver!
Currently Reading:
The Distance Between Us by Kasie West!
Drink of Choice While Reading:
Coffee or Lemon Lime Gatorade
E-reader or Physical Book?
Definitely physical book. I love my tablet because I have SO many books on there and my eARCs but I will always love the physical book more.
Fictional Character You Probably Would Have Actually Dated In High School:
Patch from Hush, Hush
Glad You Gave This Book A Chance:
A Discovery of Witches. There was a ton of bad reviews on this one but I read it, loved it and it's now one of my all time favorites!
Hidden Gem Book:
What I Didn't Say by Keary Taylor; I absolutely adored this book and it's hardly talked about at all!
Important Moment in your Reading Life:
I think I'll have to agree with Jamie on discovering Goodreads! I have only been on Goodreads for a year and a half but it has taken over my reading life. I'm not sure how I even survived without it. I use it when I'm shopping, to plan my reading lists, to remember my review books, library books… the possibilities are endless. I'm obsessed.
Just Finished:
The Rules for Disappearing by Ashley Elston.
Kinds of Books You Won't Read:
Well, the go to answer used to be historical fiction but I'm realizing I like historical fiction if it has a paranormal twist. I would have to say adult fantasy. It's just too… complex for me. And I don't find it very fun to read.
Longest Book You've Read:
Harry Potter and the Order of the Phoenix … a whopping 870 pages!
Major book hangover because of:
Clockwork Princess. Ohemgee. This book almost did me in. I feel like I'm not going to read anything that compares for a while.
Number of Bookcases You Own:
Does it count ones that aren't put together? 4 then, lol.
One Book You Have Read Multiple Times:
Harry Potter and the Goblet of Fire and The Devil Wears Prada. It's a tie for both, although perhaps I've read The Devil Wears Prada more because I'm on my second copy and it still looks awful!
Preferred Place To Read:
My bed
Quote that inspires you/gives you all the feels from a book you've read:
There are just way too many for me. I love book quotes. But I'll go with, "You love me, real or not real?" "Real" from Mockingjay 🙂
Reading Regret:
Not reading YA sooner(other than the big name favorites). I wish I had of explored more, and sooner than I did… maybe I wouldn't be so far behind now!
Series You Started And Need To Finish(all books are out in series):
The Castor Chronicles! I absolutely adored Beautiful Creatures and I'm not entirely sure why I haven't picked up the rest of them.
Three of your All-Time Favorite Books:
Really?!? Delirium by Lauren Oliver, Harry Potter and the Goblet of Fire and Pushing the Limits. The last one is tied with about 20 others, seriously this was way too hard to narrow down!
Unapologetic Fangirl For:
J.K. Rowling. It seems like such a generic answer but I am OBSESSED seriously. I will buy anything that she writes. And I freak out over anything Harry Potter. Maybe the answer is Harry Potter than?
Very Excited For This Release More Than All The Others:
OK I'm cheating. There are 3 that I can't pick from, Allegiant by Veronica Roth, Altered by Gennifer Albin and Here After by Kate Brian.
Worst Bookish Habit:
Starting too many books at once AND taking too many books from the library at once. My bookish eyes are bigger than my bookish stomach!
X Marks The Spot: Start at the top left of your shelf and pick the 27th book:
Bahaha… How to Tell If Your Cat is Trying to Kill You (Hilarious book!!!!)
Your latest book purchase:
The Cuckoo's Calling & Faking It! (I'm not buying as many books as of late).
ZZZ-snatcher book (last book that kept you up WAY late):
Clockwork Princess… oh my heart.
And those are my answers folks! If you did the bookish survey, link up you answers as well 🙂