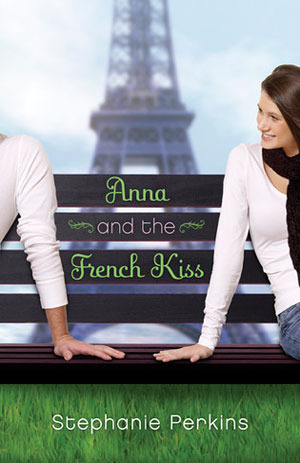 Narrated by Kim Mai Guest
Length: 10:25:57
Published: October 2011 by Listening Library
Series: Anna and the French Kiss #1
Source: Borrowed from Library
Amazon(Audio CD) | Amazon(Audible) | Goodreads

Anna is looking forward to her senior year in Atlanta, where she has a great job, a loyal best friend, and a crush on the verge of becoming more. Which is why she is less than thrilled about being shipped off to boarding school in Paris–until she meets Étienne St. Clair. Smart, charming, beautiful, Étienne has it all…including a serious girlfriend. 

But in the City of Light, wishes have a way of coming true. Will a year of romantic near-misses end with their long-awaited French kiss?


I seriously felt like the last person left on the planet to read Anna and the French Kiss so I finally sucked it up and decided to borrow the audiobook from my library. WHY did I wait so long? I fell in love with this story, the characters and Paris.
I adored Anna. She was quirky, emotional and just overall a great character. I loved how imperfect she was, she definitely had her flaws but she was adorable and I loved her. And Etienne … well does anyone not like him? I swooned over him just like every other character in this book. He was sweet and handsome… oh, perfect.
The narrator, Kim Mai Guest, did an amazing job. I was nervous about trying this on audiobook because it's such a popular book and I didn't want to dislike it because I wasn't reading it myself. I had nothing to worry about. Guest did so much to add to the characters, I think I felt more attached to them because this was an audiobook! You could hear so much emotion through her and the voices she put on for the characters were fabulous.
I loved the buildup to Anna and Etienne. There was so much tension and by the end of it I was practically screaming for them to get together. I really enjoyed the close friendship they built first and the fact it wasn't insta love! I haven't read a lot of books where Paris is the main setting but I immediately wanted to go to Paris after finishing. I can see why everyone loves books set in Paris, there is just this amazing atmosphere surrounding it.
I really don't have much more to add that hasn't already been said. PICK UP THIS BOOK! It's cute, HILARIOUS, a great summer read, the audiobook is fantastic… I could just keep going. I am definitely picking this book up now and will be "re reading" it in actual book form.