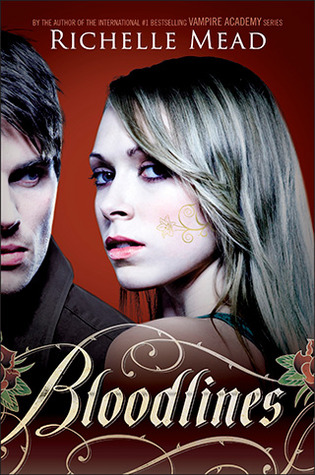 Bloodlines by Richelle Mead
Narrator: Emily Shaffer
Length: 12 hours, 50 minutes
Series: Bloodlines #1
Published by Penguin Audio on August 23rd 2011
Source: Borrowed from the Library
Add on Goodreads
Amazon
My Rating:

Blood doesn't lie...

Sydney is an alchemist, one of a group of humans who dabble in magic and serve to bridge the worlds of human and vampires. They protect vampire secrets - and human lives. When Sydney is torn from her bed in the middle of the night, at first she thinks she's still being punished for her complicated alliance with dhampir Rose Hathaway. But what unfolds is far worse. Jill Dragomir - the sister of Moroi Queen Lissa Dragomir - is in mortal danger, and the Moroi must send her into hiding. To avoid a civil war, Sydney is called upon to act as Jill's guardian and protector, posing as her roommate in the last place anyone would think to look for vampire royalty - a human boarding school in Palm Springs, California. But instead of finding safety at Amberwood Prep, Sydney discovers the drama is only just beginning...


I've talked before about how audiobooks and I aren't exactly friends. I want to like audiobooks, but my brain is easily distracted so it doesn't work out that well for me. When I started to put a lot of time into crocheting I noticed that I wasn't getting a lot of reading done (although I was getting a lot of TV watching in!) and that irked me. Couldn't I have two main hobbies without sacrificing time from both? Bring in audiobooks. I decided to give it another go and let me tell you the experience this time was wholeheartedly different from before!
I LOVED Emily Shaffer as the narrator. I thought she did a phenomenal job, and she is Sydney Sage to me now. I have Golden Lily in hardback and I just don't think I am going to get the same experience from that as I did on audiobook. Emily did a fantastic job with voice inflection, different characters voices, and just making the story interesting and enthralling. I was incredibly happy with her as the narrator, and I will be searching for other audiobooks that she narrates as well.
I was a bit nervous to start Bloodlines after loving Vampire Academy so much. I didn't want it to take away from my love of that series, or potentially change my thoughts so basically I waited until the entire series was finished (again). After finishing Bloodlines, I don't know why I was so nervous!
Sydney is one of the main characters in Bloodlines, and since I really loved her snarky, sarcastic attitude in the last couple VA books, I was really excited to see her again. I love her even more after this first book! Since she's the main character, we get to see so much more into her thoughts and how she thinks, and she is much different than I thought she was. She was a bit annoying at times because she strives to be perfect, and I don't enjoy the whole back and forth about her loving vampires but she grew a lot in Bloodlines and I expect that's only going to continue throughout the series. ADRIAN! I love Adrian, but he didn't make me any less sad than he did in VA. He broke my heart in Vampire Academy because Rose strung him along and he was so depressed. While he isn't as sad in Bloodlines (that we can really see, Jill comments on it occasionally), he definitely isn't over Rose and my heart hurts for him. I remember really liking Jill in VA, but for some reason I didn't completely warm up to her in Bloodlines. She is definitely a different person after her recent experiences that took her to Palm Springs, but she seemed mopey and whiny and I hope that changes in Golden Lily. AND EDDIE! OMG, I was so happy to see Eddie as one of the main characters in Bloodlines. I missed him <3
I thought the plot was fast paced and really moved along quickly, even though I was listening to this on audio. It was somewhat predictable at times, but then also not, I was seriously shocked at the ending. I did not see that coming, not even a little bit. Maybe it's because I was taking in the story in a different format than I usually do so I wasn't picking up on any hints, but it definitely surprised me!
I am really excited to start Golden Lily, I can't wait to see where this next book is going to take us with investigating Spirit and Strigoi's.
If you read and loved Vampire Academy I highly recommend picking up Bloodlines! It's a different tone that Vampire Academy, but just as enjoyable with a ton of beloved characters!