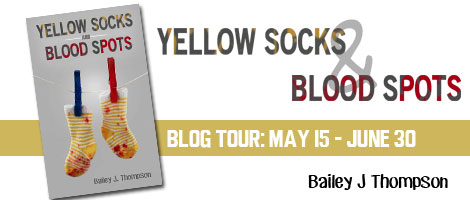 *Visit the books website for more info and other tour stops!*
I'm really excited to be participating in the blog tour for Yellow Socks and Blood Spots. For my stop I interviewed Bailey, so keep reading for the awesome interview. Also be sure to read my review for the book here!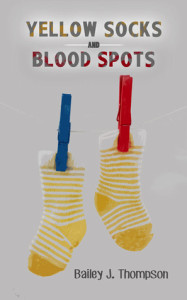 Released: May 15th 2013
Pages: 300
Series: N/A – Stand Alone
Goodreads | Amazon
Two lines means pregnant, and pregnant is the very last thing seventeen-year-old Isabelle wants to be. She's just beginning her senior year, she's rekindling the respectable relationship she once had with her family and she's finally fallen in love.

Her boyfriend, Jason, wants an abortion, while Isabelle wants to give her baby a chance at life, whether that means adoption or raising her baby herself. Her situation raises a question of values, beliefs, rights, societal expectations and personal opinions, and as Isabelle's friends and family discover the news, they seem to think that only they know what's best for her and her baby. Within two weeks of finding out about their beautiful disaster, Isabelle and Jason have to come to a mutual agreement and make a life or death decision.

Tell us about yourself in 3 lines or less!
19-year-old. Author. Photographer. Dreamer!
When did you know you wanted to become an author?
Even when I was young, I was a storyteller. But never having been exposed to an author as an occupation, I thought I wanted to be a doctor. It wasn't until I was 12-years-old that I was assigned a 2-page short story on the gingerbread houses that my class had made. Before I'd known what hit me, that 2-page story became a 30-page novella entitled Detective Bailz and the Haunted Gingerbread Mansion. I think that was the moment that I realized not only that that was what I wanted to be doing, that's what I needed to be doing. I was a writer.
Your debut novel, Yellow Socks and Blood Spots touches on a controversial topic. What made you want to write such an emotional novel as your first one?
You'd never believe how many young women are faced with similar situations as Isabelle in the novel, and the literary support is lacking. Especially after observing classmates and peers make similar decisions, I decided that a book that addressed the topic without picking sides of the debate was what was needed.
What's up next for you Bailey? Is there another YA novel in the works?
Right now I'm focusing on my kids books, and children's book publishing company, Gerbil Meets Mouse Publishing. That said, I am working on two more novels. One is YA, another is adult.
Who are your favorite authors?
Dean Koontz & Lawrence Hill
What are your 5 most played songs on your play list right now?
OneRepublic – Feel Again, Hurricane – Midnight Cinema, I was a Fool – Tegan and Sara, Kellie Pickler – Red High Heels, Runaway – Mat Kearney
What are you reading at the moment?
All of Malcolm Gladwell's books.
Besides writing, what are some of your favorite things to do?
If I'm not writing, and I'm not sleeping, there's a strong chance you'll find me in my photography studio or out-and-about taking photos. I also love to discover and learn healthy recipes and foods. Lover of long walks on the beach…. (So cliche right?)
Thanks so much Bailey for stopping by today 🙂