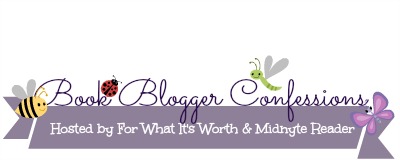 Book Blogger Confessions is a meme posted twice monthly(1st & 3rd Monday) where book bloggers share, discuss & confess book & blog related topics. 
Hosted by For What It's Worth & Midnyte Reader.
How long do you see yourself blogging for? Do you think it's ok for a blog to evolve over time?
At this moment in time I see myself blogging for quite a few years to come. I've been searching for a hobby that would completely satisfy my idle time(other than reading of course) for a while but nothing seemed to hold my interest for very long. When I first discovered Goodreads and other book blogs I didn't intend on every starting my own blog but the more and more I seen how fabulous they were the more I wanted to try it. One day I just sat down at the computer and decided to give it a go. I was hooked instantly. I absolutely adore blogging, interacting with other book lovers, reading blogs… I love EVERYTHING about blogging right now. Obviously that can change at any given moment but I can't see it in the near future.
I think it's definitely ok for a blog to evolve over time. Of course your interests may change so it's natural for something to evolve with that. An example would even be my own blog. I started off wanting to review only young adult and I did for quite a while. Now it includes new adult and some adult fiction as well. I still post mainly Young Adult but my interests have broadened a bit and it's only natural to want to include those new-found loves!
Well, short and sweet this week 😛
What are everyone else's thoughts?? Link up please!!
xo Lauren