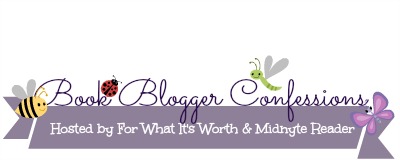 Book Blogger Confessions is a meme posted twice monthly(1st & 3rd Monday) where book bloggers share, discuss & confess book & blog related topics. 
Hosted by For What It's Worth & Midnyte Reader.
Hot Topics in the Blogosphere: Amazon Buys Goodreads, The Death of Google Reader & What do we owe authors?
I am so torn on Amazon buying Goodreads. On one hand I'm pretty excited about it; it could be a great thing… when we purchase a book on Kindle it automatically updates for instance! The part that leaves me worried is that there is even more nastiness on Amazon than Goodreads. I avoid all the drama, at all costs but you can't help but stumble onto a review sometimes that houses an entire chain of conversation… it's 20x worse on Amazon. I've even had nasty comments posted on some of my reviews(which I've promptly deleted; I'm not in the business of entertaining rudeness). I guess all in all I hope the change is for the better but only time can tell!! Ohh… and I will NEVER leave Goodreads lol; it owns me.
When I first found out that Google Reader was ending July 1st I basically threw a tantrum. I was rudely made aware of this via a pop up box and I was LIVID! WHAT?!?!? How will I live without my reader?!?! Obviously I was completely ignorant to the fact there were other ways to read your blog posts other than Google Reader and I was beyond devastated. My first thought was… what about the BLOGS?!?!?! Once I calmed down… and let it go for a few days a ton of posts were popping up in my feed with options for new readers. I have switched to Feedly and I couldn't be happier. I actually am a TON happier with Feedly than I was with Google Reader. Feedly has such an impressive and esthetically pleasing interface with a ton of options. It was an easy switch and I retained all of my blogs from Google. You can create folders, add tags, share in Feedly, mark for later, add blogs easily, mark as read easily… it's just fabulous. The one thing I didn't like was the app.. and that's only because they didn't have an option of just viewing the blog title, I had to view small excerpts or the image as well. They have since fixed this so now you can read header only and I am so happy. I never subscribe via GFC anymore… I stopped awhile ago because Google Reader wouldn't update for weeks with my GFC subscriptions so I got out of the habit of using it. I think you have whatever subscription options that you want. I personally have RSS(Feedburner), Email, Bloglovin'(which I HATE), Networked Blogs & Linky. They are all equally as popular with RSS maybe taking the winner title by a little bit. About Bloglovin'… they have stopped updating my feed(which there is nothing wrong with… I checked) and will not respond to any of my concerns. I do not use this to subscribe to blogs but I have it as an option right now. If it's not fixed within 2 weeks I'm removing it from the blog. This is not just my blog… Ashley @ Nose Graze posted about it and the amount of people who commented and said the same thing has happened to them is startling!!!
What do we owe authors… what an interesting topic. I think it's ridiculous for authors to expect people to only buy their books, not to borrow them. I have borrowed a ton of books, not to mention had ARCs of their book and I have still spread the love via reviews, twitter etc. But that's because I love their book. Also we do not owe it to the author to promote their books at all, unless of course it's for a book tour or blitz that you are participating in. Obviously those are for promotional purposes. I don't think a lot of authors think like this though… I've seen authors with great support of libraries. I think a few bad apples spoil the bunch and I'm choosing to be mostly neutral on this topic 😀
What are your thoughts on the recent hot topics… link up 😀
Happy Reading!
xo Lauren