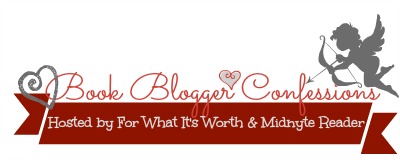 Book Blogger Confessions is a meme posted twice monthly(1st & 3rd Monday) where book bloggers share, discuss & confess book & blog related topics. 
Hosted by For What It's Worth & Midnyte Reader.
I am so excited to be participating in this meme! One of my goals for 2013 was to participate/host more discussions so to get my feet wet I've decided to participate in this meme. I've been a silent reader(stalker?!) of these posts for several months now so I'm really looking forward to posting my thoughts about the topics 🙂 I will now only be participating in Waiting on Wednesday twice monthly as well(the opposite weeks of this meme), so no WoW for this week.

Share the love! In honor of Valentines Day, tell us about a few of the bloggers (and/or) authors you love.
Oh my gosh… I could go on for days with this topic, seriously. Let's start with authors…
1. Lauren Oliver – I absolutely adore her writing. I do not know how a person can single handedly build such an obsession within me. She has created this crazy monster inside of me: The Delirium Trilogy. I am so in love with this amazing series she has created that I have in fact booked March 5th off of work so I may read Requiem. Yes, that's right. I've gone straight off the deep end…
2. Ann M Martin – Oooh, the creator of the Babysitters Club. My love for reading really came to a point when I started reading this series. My parents never had to wonder where I was if they didn't hear me… I was always curled up with a book somewhere, and 9 times out of 10 it was a Babysitters Club(or spinoff series) book. I still have all of my copies and I hope one day my children which get even a bit of the enjoyment that I had from them.
3. Kate Morton – Well… the only thing I have to say is, historical fiction is not my favorite genre. Actually it's quite close to being my least favorite genre but somehow this woman's amazing writing has managed to ensure all of her books are 5 stars. I don't know how someone can just build these amazing and intense mysteries. Genius.
4. Sophie Kinsella/Madeline Wickham – It doesn't matter what the synopsis is. I will read it. I love these super girly chick lit's 🙂
Now onto the bloggers… I hate doing these honestly. I always feel so mean when I leave people out, it honestly makes me so anxious lol. So… I've just listed a few blogs that I love and have the bestest owners 🙂
Read & Reviewed (Merin), Writer Grrl Reads(Melissa), Book Nerd Canada(Giselle), Books With Cass(Cassie), Alexia's Books and Such(Alexia) and lastly but NOT leastly … Rola from Xo'Reads 🙂
Who are you sharing the love for? Please leave me your "confession" posts 🙂
Happy Reading!
xo Lauren