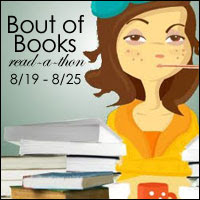 "The Bout of Books read-a-thon is organized by Amanda @ On a Book Bender and Kelly @ Reading the Paranormal. It is a week long read-a-thon that begins 12:01am Monday, August 19th and runs through Sunday, August 25th in whatever time zone you are in. Bout of Books is low-pressure, and the only reading competition is between you and your usual number of books read in a week. There are challenges, giveaways, and a grand prize, but all of these are completely optional. For all Bout of Books 8.0 information and updates, be sure to visit the Bout of Books blog. – From the Bout of Books team"
It's that wonderful time again 🙂 I've been participating in so many read-a-thon's this Summer and Bout of Books is definitely not something I can pass up. I've participated several times over the past year, some more successful than others but I really have a large pile of books to get through by the end of summer so hopefully this will be my urge to get them done this week!
I'll be updating my progress in my challenge page as we go and also doing a Mid Week check in to see how I'm doing.
Goals
My goal is pretty simple. Read at least 4 books! I'm not going to give myself titles that I have to read this time because that always backfires so basically I'll be reading whatever looks good!
Are you participating in Bout of Books? What are your goals this time around? Link up your goal posts 🙂