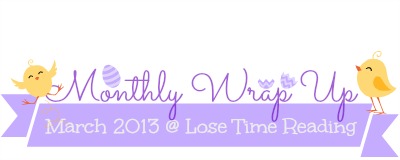 Happy Easter everyone 🙂 Boyfriend and I will be having a low-key one this year… it's quite warm, so I don't especially want to be cooking so we are going to have a movie & pizza day! March was a busy month for me. Work was quite frazzling so I was a little stressed… it translated to my reading and blogging. I was SO lethargic when I got home and didn't feel like doing anything but vegging. I did get quite a bit of reading done but I would like to have gotten more… I'm a bit behind now so the remainder of this weekend will be spent getting caught up. Anyhow… onto the wrap up…
Mila 2.0 by Debra Driza – 4/5 Stars
Shadowlands by Kate Brian – 4/5 Stars
Orgins: The Fire by Debra Driza – 4/5 Stars
Requiem by Lauren Oliver – 4/5 Stars
Raven by Lauren Oliver – 5/5 Stars
Beyond Belief by Jenna Miscavige Hill – 5/5 Stars
Escape Theory by Margaux Froley – 3/5 Stars
The Giver by Lois Lowry – 4/5 Stars
Hex Hall by Rachel Hawkins – 4/5 Stars
The Crimson Hunt by Victoria H. Smith – 3/5 Stars
Transfusion by Nikki Jefford – 4/5 Stars
Dead as a Doornail by Charlaine Harris – 4/5 Stars

Goodreads Challenge: I am currently 11 books ahead in my Goodreads challenge! I am obsessed with staying super ahead now… Last year was extremely depressing for me when it came to my GR challenge so I have a mini challenge with myself to stay ahead 😛 I currently have 38 out of my 115 goal read.
2013 Debut Author Challenge: I didn't accomplish a lot again in the DAC. I have a lot of May/June eARCS so I think that's when I'll put a pretty big dent in the pile. I read 2 books for the challenge and reviewed one from last month.
2013 TBR Pile Challenge: The TBR Pile is getting larger… and I'm not putting a big dent in it. Bleh. I only read two books, The Giver & Hex Hall.

I took part in two tours this month! One was for The Crimson Hunt by Victoria H. Smith and the other for Transfusion by Nikki Jefford. Both were enjoyable paranormal reads. They both had cliffhanger endings so I'm excited to read the next books in both series. The giveaway for Aurora Sky: Vampire Hunter Vol I(Transfusion) is still ongoing to be sure to drop over and check that out!
I posted my picks for Top Ten Series I'd Like To Start But Haven't Yet, Top Ten Books At The TOP Of My Spring 2013 TBR list, Top Ten Books I HAD To Buy…But Are Still Sitting On My Shelf Unread, and Top Ten Books I Recommend The Most.
I posted two book blogger confessions this month, one about blog design and the other was all about giveaways! I am really loving this discussion meme. I love discussions but I'm not great at cohesively putting together my own topics/questions so this is a wonderful meme!
I also participated in Bloggiesta again which was as fabulous as always. I also was a mini challenge host this time around and I had SO much fun. My challenge was "How to Organize Your Reviews Using Excel". I've using this method for several months now so i decided to share it. I found so many new blogs to follow, participated in a twitter chat and got a ton accomplished on the blog.
Speaking of blog work, I finally got the Ultimate Book Blogger Plugin. Holy smokes… if anyone is second guessing whether to get this or not, DO IT! It is fabulous… there is just SO much you can do. I haven't explored everything yet and I'll working on organizing my old reviews but once it's done… ah… life will be so easy. I also installed a new theme, Morph purchased from Creative Whim, and I LOVE IT. I was so pissed off with wonky suffusion and I hated that it wasn't a responsive layout. I am more than pleased with this theme, I really was dying for a new look.
In addition to the books I read I also posted reviews for Losing It by Cora Carmack, The Nightmare Affair by Mindee Arnett, and Cinder by Marissa Meyer!
I participated in the cover reveals for An Endless Summer by C.J. Duggan and Afterlife Academy by Jaimie Admans, as well as The Transcend Time book blitz.
And the finally, Merin & I are doing another read a long: Scarlet. We both loved Cinder and immediately picked up Scarlet. We are just poking along at this one… there are so many books to be read 🙂 Look for that review in April though!
How was everyone's March? Link up your wrap ups !!!
xo Lauren