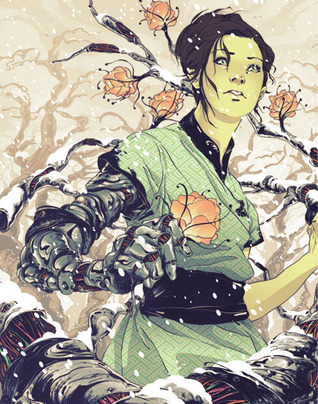 Pages: 16
Published: December 05th 2011 by Tor.com 
Series: Lunar Chronicles #0.5
Source: Tor.com (free)

Cinder, a gifted mechanic, is a cyborg. She's a second-class citizen with a mysterious past, reviled by her stepmother and blamed for her stepsister's illness. In "Glitches," a short prequel story to Cinder, we see the results of that illness play out, and the emotional toll that takes on Cinder. Something that may, or may not, be a glitch…

Glitches takes place when Cinder first arrives with her stepfather to New Beijing. She is introduced to her step mother and sisters, Pearl and Peony.
I thought this was a great addition to the story. As Cinder's stepfather was never featured in Cinder due to his death this gave us a little glimpse of what he was like. I honestly thought we would see him more and I was quite shocked that he died so close to Cinder arriving "home".
I LOVED that I got to see more Peony and Iko! They were two of my favorite characters from Cinder and I missed them both dearly when it was finished. I loved seeing Iko's amazement and Peony's happiness. I adore those two girls <3 You also get an idea that Pearl and Adri immediately felt a resentment towards Cinder, it made me a bit heart sad that they didn't make an attempt with her.
Obviously Glitches is an incredibly short novella at only 16 pages but I recommend reading it if you enjoy this Lunar Chronicles. It gives a small peek into Cinder's past and you can revisit some beloved characters. I gave it three stars because it's incredibly short, I wish there was a bit more and also because it doesn't really give any additional information to the story. True, it's a great addition but it's not necessary at all to read Glitches to understand Cinder.