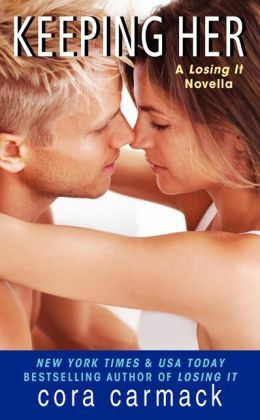 Pages: 100
Expected Publication: August 13th 2013 by William Morrow  
Series: Losing It #1.5 
Source: William Morrow via Edelweiss

Garrick Taylor and Bliss Edwards managed to find their happily-ever-after despite a rather . . . ahem . . . complicated start. By comparison, meeting the parents should be an absolute breeze, right?

But from the moment the pair lands in London, new snags just keep cropping up: a disapproving mother-in-law-to-be, more than one (mostly) minor mishap, and the realization that perhaps they aren't quite as ready for their future as they thought.

As it turns out, the only thing harder than finding love is keeping it.


I am so in love with this series so when I finished Faking It and found out there would be a novella as well I was overjoyed, even more so when I received it on Edelweiss!
Keeping Her is about Garrick and Bliss which I was really excited about. I felt there was so much more to their story and I couldn't wait to get a glimpse of that. The couple travels to London to see Garrick's family, this is also the first time that Bliss is meeting them and true to Garrick/Bliss form there are a few hiccups along the way.
I need to start off by saying that I'm a little bit over Bliss. I really liked her in Losing It but now that they have been together for quite some time, live together and are actually engaged the freaking out, embarrassed act that she has sometimes drives me nuts. I understand it's nerve-wracking to meet your fiancé's parents for the first time but she was being a bit irrational. I don't know, maybe I looked too much into that.
I did enjoy the story however, it was cute and a good little addition to their story. It's absolutely not necessary to read Keeping Her as it doesn't have any plot developments but it's fun to read. I liked meeting Garrick's family, friends and seeing where he comes from but I've had enough of their story now and I'm ready for Finding Her!