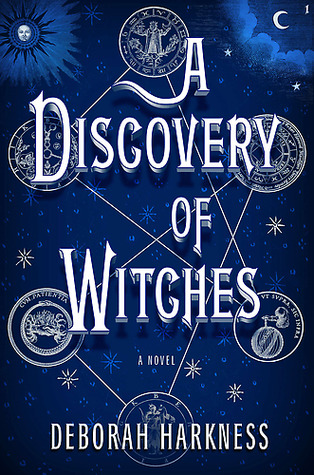 Reread - A Discovery of Witches by Deborah Harkness
Series: All Souls Trilogy #1
Published by Viking Adult on December 27th 2011
Pages: 579
Source: Purchased at Coles
Add on Goodreads
Amazon•Kobo•TBD
My Rating:

Deep in the stacks of Oxford's Bodleian Library, young scholar Diana Bishop unwittingly calls up a bewitched alchemical manuscript in the course of her research. Descended from an old and distinguished line of witches, Diana wants nothing to do with sorcery; so after a furtive glance and a few notes, she banishes the book to the stacks. But her discovery sets a fantastical underworld stirring, and a horde of daemons, witches, and vampires soon descends upon the library. Diana has stumbled upon a coveted treasure lost for centuries-and she is the only creature who can break its spell.


I knew I wanted to reread this series for the release of the third book. It has been over 2 years since I read this magical series and I wanted to revisit my favorite characters before I jumped into the third one; I didn't want to miss a single detail or not remember anything and I am so happy that I chose to reread it!
I immediately, like within the first 5 pages immediately, was swept up again with Diana and her life. It was almost like I hadn't stopped reading because I fell back into the same trance that I was in the first time I read it.
I loved the characters just as much, if not more the second time around. I was really worried that it might not have the same spark, or the characters would seem boring or SOMETHING on the reread, but that is not so at all. I loved Diana exactly as much as I did the first time, and I think I loved her even more this time. I understand her strange nuances and the reasons why the way she was from the get go as opposed to finding out throughout the book and I liked knowing that. I focused more on the story and what was happening, instead of guessing what might be going on. And MATTHEW… he gets better and better with every page honestly. I remember thinking he was so strange in the first part of the book on my original read, but GOSH not this time. He's fantastic. and Ysabeau, I was so happy to see her again! I didn't like Ysabeau last read, well at least at first, and I felt like I missed out on a lot of her character and story because I was busy disliking her. Well I knew what she was like this time around so I was so excited to see her again!
I thought that some parts of the story wouldn't have the shock value and feeling that was there on my first read, but it didn't turn out like that at all. Every pain, ache, injury, fight, magical lesson… was such a surreal experience. I knew what was going to happen but yet it still felt new to me when I read it because I'm so emotionally invested in these characters. I am actually so glad that I chose to reread this series before the third book because while I didn't ever forget what happened in the book, this helped to freshen up my memories.
There is something about A Discovery of Witches that is absolutely magical, it makes you feel like there IS magic and I love that feeling. It's one of the major reasons why I love this series so much! If I could give this book more stars I would, I thought it was BETTER the second time around and the All Souls Trilogy is definitely going to be one of those series I reread for years to come!