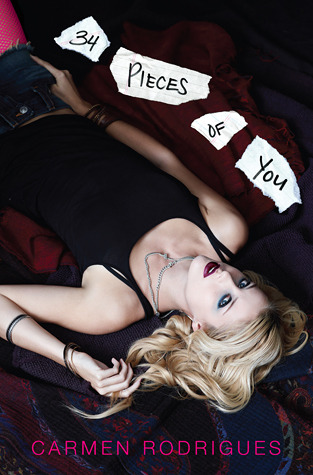 34 Pieces of You
by
Carmen Rodrigues
Published by
Simon Pulse
on September 4th 2012
Pages:
336
Source:
PulseIt
Add on Goodreads
Amazon•Kobo•TBD My Rating:
There was something about Ellie... Something dangerous. Charismatic. Broken. Jake looked out for her. Sarah followed her lead. And Jess kept her distance, and kept watch.

Now Ellie's dead, and Jake, Sarah, and Jess are left to pick up the pieces. All they have are 34 clues she left behind. 34 strips of paper hidden in a box beneath her bed. 34 secrets of a brief and painful life.

Jake, Sarah, and Jess all feel responsible for what happened to Ellie, and all three have secrets of their own. As they begin to confront the darkest truths about themselves, they will also find out what Ellie herself had been hiding all along...

34 Pieces of You is told from three different perspectives-Jake, Sarah & Jess. After Ellie dies these three characters are left to figure out what happened and try to continue on with their life when a person of their group is suddenly gone. Jake is Ellie's brother, Sarah is Ellie's best friend and Jess is Sarah's sister but also a friend of Ellie's. They discover a box that Ellie had hidden with scraps of paper, each scrap of paper is a small link in the puzzle they are trying to figure out.
These book is deep, so deep & raw and emotional. I devoured it – I had it done in about 2 hours, it was hard to put down because I just wanted to figure out what happened. It's not in any way a happy story, and it doesn't end happy as well. Well it does to an extent but since the book is mainly about suicide and cutting it's not the normal all-is-well type of ending that you wish for.
My favorite character was Jess. She isn't involved a large amount in the story, but I found her part the most intriguing and it was interesting as the story went along to see how she played such a large part in Elle's life. I also really like Jake and Sarah. So technically I really liked all of the main characters, lol. The character development was very good, you got to see their personalities from their own perspective as the chapters alternate in first person.
Carmen Rodrigues really told an amazing story. The writing was beautiful and it made your heart ache for each character, especially Ellie, who unfortunately you are not able to get a first person perspective from. I felt so sad for her when I finished reading.
There's not much I can really go into without ruining the book as the whole point is to figure out bits as you go along. If you like "issue" books this is highly recommended but if you're looking for something light – definitely pass, it's anything but.