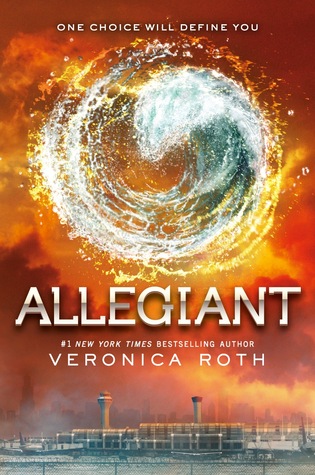 Allegiant by Veronica Roth
Series: Divergent #3
Published by HarperCollins on October 22nd 2013
Pages: 526
Source: Purchased at Coles
Add on Goodreads
Amazon•Kobo•TBD
My Rating:

The faction-based society that Tris Prior once believed in is shattered--fractured by violence and power struggles and scarred by loss and betrayal. So when offered a chance to explore the world past the limits she's known, Tris is ready. Perhaps beyond the fence, she and Tobias will find a simple new life together, free from complicated lies, tangled loyalties, and painful memories.

But Tris's new reality is even more alarming than the one she left behind. Old discoveries are quickly rendered meaningless. Explosive new truths change the hearts of those she loves. And once again, Tris must battle to comprehend the complexities of human nature--and of herself--while facing impossible choices about courage, allegiance, sacrifice, and love.


It's books like this that make it hard to write a review spoiler free. Anytime I try to formulate a sentence I just have one thing I want to say… and I can't.
I started the Divergent series straight off the heels of The Hunger Games trilogy. Prior to reading that, I had only read a handful of YA so I was desperate to find something that made me feel like The Hunger Games did. Luckily, it took me no time as my local bookstore had Divergent labeled as "If you liked The Hunger Games try this…". I dove into Divergent and fell completely in love with it. I had no idea it was the first book in a trilogy when I picked it up, but lucky for me I had waited so long to fall in love with YA that Insurgent was just days away from release. I had no idea that this trilogy would do things to my heart the way it did. I have loved AND hated the same character from one book to another, I have cried and I have screamed and it's so entirely weird to me that this is how It ends. It's done… and I don't know how to sum into words the catastrophic event that my heart just happened to go through in the prior hours.
I am going to keep this spoiler free as possible, for Allegiant. Divergent and Insurgent spoilers will be inevitable so if you haven't read those two yet, I suggest stopping now. I have linked to Goodreads at the end, so list a few additional thoughts in a spoiler tag.
Tris, quite possibly, might be one of the strangest written characters for me. I loved her in Divergent, just adored her. I thought she was strong, but emotional, kind but tough… and I just really liked and appreciated her for her qualities. I practically detested her in Insurgent. I hated her whinyness, and her inability to think about anyone but herself and probably the biggest reason was for the way she constantly hurt Four. Well, I loved her all over again in Allegiant. She was almost entirely back to the Tris I fell in love with in Divergent and I have to thank Veronica Roth for giving me back the heroine that originally made me love this series. Surprisingly, Four who I have consistently loved from book to book was the character that I wasn't to scream at. He seemed so irrational in Allegiant at times and it more than frustrated me. He did come to be the Four I loved again, but… I didn't much enjoy that I spent a large part of the book being angry with him. Christina, will always be a favorite of mine and I have liked her consistently throughout the series. Uriah and Zeke were two of my favorites from the beginning of the series, and they might be two of the characters I am saddest to leave. I loved their personalities and how they played an equally important part to both Tris and Four.
For the first 25% of Allegiant I thought it was very good, fast paced and it held my attention. Then the next 55% of the book was so slow-paced that I honestly expected I would have to put it down for good… well, I reached a certain point at the end where my entire stomach region may have, in fact, been lodged into my throat so for that, Veronica Roth, kudos to you because only excellent writing can do that to a person.
I LOVED the dual point of view. The fact that we could view this story from both Tris & Tobias's eyes was fantastic. I think it wouldn't have had as big of an impact on me if it wasn't for that. I especially loved Tobias's voice. It especially becomes import with the dual point of view towards the end of story and I think Roth made an excellent choice by writing like this.
One of my biggest disappointments of Allegiant was the predictibility. I had somewhat of an idea or expectation where the story was going to go after Insurgent. I really loved the ending of the second book, but I had this idea in my mind what was going to happen and I wasn't entirely wrong. I also wanted MORE. I felt starved of an amazing story when I finished and that is probably my biggest problem with the ending. I mean, Roth took this book where I'm sure no one thought it would go, I sure as hell didn't at least and I HATED THAT. I think she achieved a shock value and surprise that we may not see again for a very long time but I hated the way she did it. The actual event that takes place is not even the part that bothers me … it's the way it was done. I don't think it did the characters, or the series the justice it deserves.
I enjoyed the epilogue however, and that did actually cast Allegiant in a better light for me but I'm sad to say that I was expecting a bit more from the ending of one of my favorite series and I didn't get it.
My review is impossible to sum up my feelings, I also don't think that you should hold my review in much regard when it comes to Allegiant. If you started this series, you should finish it… and keep an open mind. You may love the ending, you may hate it… or you may be a bit put off like me. It's worth it to see how Tris & Four's story ends.
To see my additional thoughts, WITH SPOILERS, please check out my Goodreads review.