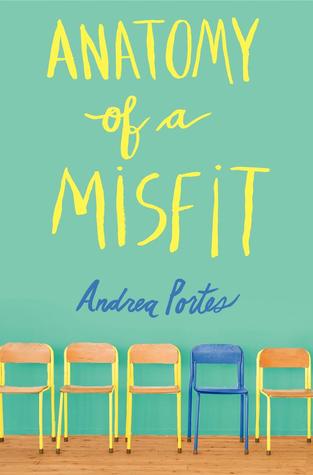 Pages: 336
Publication: September 2nd 2014 by Harper Teen 
Series: N/A – Stand Alone
Source: Harper Teen via Edelweiss
Amazon • TBD • Kobo • Goodreads

Fall's buzzed-about, in-house favorite. Outside, Anika Dragomir is all lip gloss and blond hair—the third most popular girl in school. Inside, she's a freak: a mix of dark thoughts, diabolical plots, and, if local chatter is to be believed, vampire DNA (after all, her father is Romanian). But she keeps it under wraps to maintain her social position. One step out of line and Becky Vilhauer, first most popular girl in school, will make her life hell. So when former loner Logan McDonough shows up one September hotter, smarter, and more mysterious than ever, Anika knows she can't get involved. It would be insane to throw away her social safety for a nerd. So what if that nerd is now a black-leather-jacket-wearing dreamboat, and his loner status is clearly the result of his troubled home life? Who cares if the right girl could help him with all that, maybe even save him from it? Who needs him when Jared Kline, the bad boy every girl dreams of, is asking her on dates? Who?


I have a ton to say about this book. I'm not sure how you can equal parts love and hate a book at the same time? I just have so much to say about Anatomy of a Misfit that I have worked on this review for nearly a week.
First off, my first impression of this book was, "What the hell am I reading?". And I'm serious, if you look at some of my Kindle notes I was freaking shocked.
If there was ever a time that I had a love/hate relationship with the main character of a novel, it was with Anika. I despised her for probably the first 50% of the book, but then her humor and sarcasm seemed to have grown on me so I ended up really appreciating her by the end of the story. I love sarcasm, and that's probably one of the main reason why I ended up liking her. I thought she took a lot of her banter a bit too far, but some of it was on point and very funny. I did think a lot of the stuff that Anika did was for "shock value" and although ballsy, I didn't agree with some of the things in the book. Like drugging her boss? I couldn't even believe that for a second. It just is so unbelievable to me, that I thought it had to be a joke. And stealing from the restaurant? Also something I couldn't quite believe. Honestly, Anika was such a two-sided coin because as much as she did so many unbelievable things, I think she was also a very realistic and real character. She had the role of antsy teenager down pat that's for sure. The boys of the story, I wasn't particularly intrigued by either of them but I was rooting for Anika and Luke. He just seemed kinder and more 'real' and I liked the parts where they were together. I'm serious, Becky Vilhauer is exactly what Anika calls her at the end of the book, and I don't use that word lightly (or ever in fact). She is such a vile, cruel creature and I wanted to just SCREAM at the stuff she said. Like the constant calling Anika, "Immigrant?". Gosh that was annoying (and terrible). And how she used it as a threat to Anika? I hated that, although I suppose that was also Anika's beef as well because she shouldn't be ashamed of who she is.
Normally I just hate love triangles, they are so prominent in everything that I read lately but I really thought that it was done exceptionally well in Anatomy of a Misfit. It was so realistic, and something that WOULD happen in real life as opposed to something that you couldn't even imagine. Luke was the boy she 'shouldn't' be with for social reasons and Jared was the boy who everyone loved and admired.
Another thing: when the hell did this story take place? It clearly had to be the 70s or 80s because I haven't seen that many references in a long time. Don't get me wrong, I loved it because half the time I'm still living in that era but I really would have liked for that to be referenced at one time.
The plot was just… strange. Really, I didn't know what the point of the book was until the very ending and then the pieces fell into place but I was confused until then. I just felt like it was a random story and had no idea where it was going until…
I nearly passed out at the ending. In retrospect I should have seen this coming… the signs were glaringly obvious looking back, but Jeez I had no damn idea and I wept for a good ten minutes at the end. It's just so freaking SAD, like gut wrenching sad.
Anatomy of a Misfit was definitely one of the hardest books I have ever rated and subsequently one of the hardest books I have ever read. I almost didn't want to rate it because I don't know what it really deserves. so I went with a 3 stars… I half loved it, and half hated it but at the end of the day it's that type of gut wrenching that leaves you feeling broken, not one that fills you with a bit of hope. I almost stopped reading this a ton of times but something kept drawing me back in every time. I'm not even sure if it's one I can recommend… I think that everyone is going to have different reactions to this type of read. There are a lot, A LOT of uncomfortable topics, conversation.. some of it is straight up awful, but I think Andrea Portes tackled some topics that others might not want to.