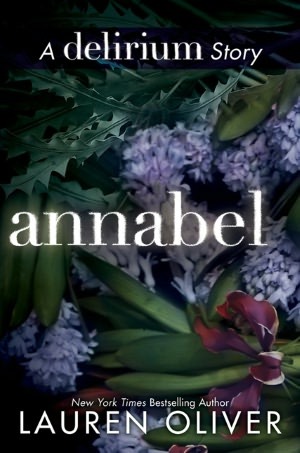 Pages: 50
Published: December 26th 2012 by HarperCollins
# in Series: #0.5 in Delirium series
Source: Purchased on Amazon
Purchase on Amazon.
Summary from Goodreads:

"Lena's mother, Annabel, has always been a mystery—a ghost in Lena's past. Until now.

Discover her secrets in Lauren Oliver's brilliant original digital story set in the world of New York Times bestsellers Delirium and Pandemonium.

Lena Halloway's mother, Annabel, supposedly committed suicide when Lena was only six years old. That's the lie that Lena grew up believing, but the truth is very different. As a rebellious teenager, Annabel ran away from home and straight into the man she knew she was destined to marry. The world was different then—the regulations not as stringent, the cure only a decade old. Fast forward to the present, and Annabel is consigned to a dirty prison cell, where she nurtures her hope of escape and scratches one word over and over into the walls: Love.

But Annabel, like Lena, is a fighter. Through chapters that alternate between her past and present, Annabel reveals the story behind her failed cures, her marriage, the births of her children, her imprisonment, and, ultimately, her daring escape."
My Thoughts & Review:
I didn't go into Annabel with high expectations. I love the Delirium series however Hana was a huge disappointment for me.  Not that it wasn't wrote well… it was(duh, it's Lauren Oliver) but because I despised Hana when I was finished reading it. I didn't want to ruin another character in this series for me, so needless to say I was slighly apprehensive.
But I loved it.
50 pages just wasn't enough for Annabel's story. I loved getting a glimpse into Lena's mothers life, before she had Lena and after she was imprisoned. It was such a beautiful story and the part told when she was in prison was quite heart wrenching. Lauren Oliver has perfected the art of character building.  You can see how Lena's current personality is very reflective of her mother: She is strong-willed, determined and understands the power of love.
Included at the end of Annabel was a Requiem sneak peak. I read it. And now I am just dying for it… I should never have read it, lol. I don't want to go into the Annabel story too much… and 50 pages if I tell you everything than I've basically told the whole story. If you love this series, you will love Annabel – pick it up!
Once again Oliver has entranced me in her beautiful writing, and with such a few amount of pages.
My Rating:

 Happy Reading!