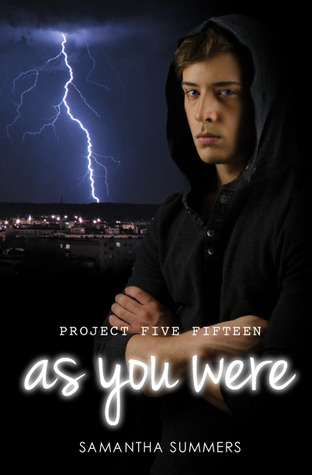 Pages: 325
Published: December 14th 2012 
Series: Project Five Fifteen #2
Source: Provided for tour review

For every choice, there is a consequence.

Ronnie and Kalen are finally together, living their life in secret under the radar of the people who want Kalen dead. But when a visit from an old friend sends Kalen away on a rescue mission, Ronnie finds herself plunged back into the world of Project Five Fifteen quicker than she ever thought possible.

It's fast becoming clear The Agency will never give up their hunt for the boys, and a betrayal closer to home starts a chain reaction that will change everything. Now, caught in a deadly web of lies and deceit, Ronnie is forced to question who she can trust; even the person she once trusted most.

As enemies close in, Kalen's past threatens to destroy the happiness they sacrificed so much for, and it's only a matter of time before the ultimate choice must be made…

I could not wait to pick up As You Were. I was dying for more Ronnie, Kalen, Ace… just all of them. I loved the characters so much and I was sooo attached to them.
As You Were starts off with Kalen & Ronnie in hiding, alone. Out of nowhere Ace discovers them and gives drastic news, Nash is missing and he still hasn't met up with Denver. Kalen sets off to find them and things go down hill from there. It thrusts the group into a run across Europe.. and they are in danger.
I don't want to go into a lot of detail as I do not want spoilers for First Light.. and a main part of this plot is a major spoiler for the end of First Light but I'll do my best 🙂
There was so much heartache for me in As You Were. I was constantly on the verge of tears because it always felt like you were about to witness the death of one your most loved characters. The action was absolutely non stop.. it was incredible, it when I thought everything had died down of course it hadn't! We are also introduced to a few new characters, and some other Project Five Fifteen boys.
My favorite part about this, that sets it apart from First Light is the fact there are alternating chapters every so often that have flashbacks to the time when the boys were with the agency. It really gives you a clear perspective of what they were subjected to and their relationships with one another. I thoroughly enjoyed that, and it softened my heart to a lot of the hard edges the boys had.
I adored Ronnie still(and more so) in the second book, Kalen more… and my love for Ace has grown tenfold. I adore that kid.
All in all, this was a great continuation to the series. I was shocked to learn there is a third part and it's such a cliffhanger! I need it NOW!!! I 100% recommend this to series to anyone that loves contemporary, thrillers and great main and supporting characters. Fantastic read 🙂