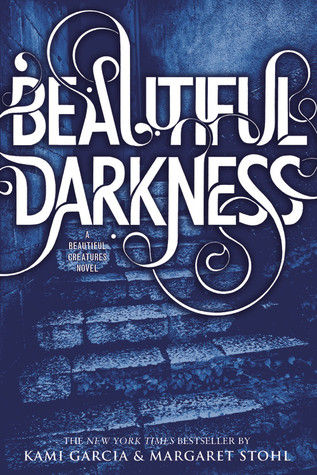 Pages: 528
Published: September 19th 2011 by Little, Brown Books for Young Readers 
Series: Castor Chronicles #2 
Source: Purchased from Coles

Ethan Wate used to think of Gatlin, the small Southern town he had always called home, as a place where nothing ever changed. Then he met mysterious newcomer Lena Duchannes, who revealed a secret world that had been hidden in plain sight all along. A Gatlin that harbored ancient secrets beneath its moss-covered oaks and cracked sidewalks. A Gatlin where a curse has marked Lena's family of powerful Supernaturals for generations. A Gatlin where impossible, magical, life-altering events happen.

Sometimes life-ending.

Together they can face anything Gatlin throws at them, but after suffering a tragic loss, Lena starts to pull away, keeping secrets that test their relationship. And now that Ethan's eyes have been opened to the darker side of Gatlin, there's no going back. Haunted by strange visions only he can see, Ethan is pulled deeper into his town's tangled history and finds himself caught up in the dangerous network of underground passageways endlessly crisscrossing the South, where nothing is as it seems.


*The review WILL contain spoilers for Beautiful Creatures*
I adored Beautiful Creatures, ADORED it and it's hands down one of my top ten that I read in 2013(I know, I'm really late to the Castor Chronicles bandwagon :P) so I don't know why it took me so long to pick up Beautiful Darkness afterwards but I made it one of my goals to finish this series by the end of 2013!
Beautiful Darkness begins at Macon's funeral. This was heart wrenching in its own sentiment because I adored Macon in Beautiful Creatures and it shattered me that he died. I thought he was such a strong, loved and loving character that I couldn't even imagine how the story would progress without him. I wanted to skip directly over his funeral but I did read it and good thing because you are introduced, or well given a glimpse into the creepy, horrific Incubus's.
Ethan and Lena were weird to me in the second book. While I still loved them, I felt like they were different from the characters I fell totally in love with in book one. Lena is deeply depressed, and bordering on Dark, because of Macon's death and Ethan is like a love-sick puppy trailing around after her. I got really tired, fast, of this back and forth so because of it the novel really dragged onwards for the first while. Link, is still definitely one of my favorite characters and he plays a very large part in the second installment as does Ridley. I gathered in Beautiful Creatures that the reader is supposed to dislike Ridley but I loved her immediately and that did not go away in Beautiful Darkness. We are also introduced to a new character, Liv, who is here from England interning with Marian at the library.
Once the initial slowness and the back and forth dissolved, the plot was really exciting. We get to see a lot more of the Castor world in Beautiful Darkness so that thrilled me. There are so many important things that happen and important people that we meet in Beautiful Darkness that it's incredibly tough to write this review because if I was even to hint at certain things, I think it would ruin the effect of the story.
I was very happy with where the story was taken and while the slow start, as well as Ethan and Lena's flaws, didn't have me head over heels for Beautiful Darkness, I really did end up loving the book and I am eager to read Beautiful Chaos. If you read the first book, and enjoyed it, you absolutely need to pick up this second book in the series… there are things that will shock you!