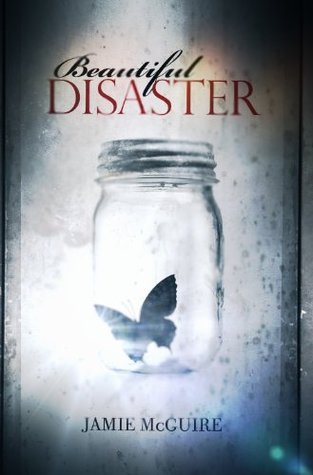 Pages: 437
Published: August 14th 2012 by Atria Books 
Series: Beautiful #1 
Source: Purchased at Indigo Spirit
Amazon | TBD | Kobo | Goodreads

The new Abby Abernathy is a good girl. She doesn't drink or swear, and she has the appropriate number of cardigans in her wardrobe. Abby believes she has enough distance from the darkness of her past, but when she arrives at college with her best friend, her path to a new beginning is quickly challenged by Eastern University's Walking One-Night Stand. 

Travis Maddox, lean, cut, and covered in tattoos, is exactly what Abby needs—and wants—to avoid. He spends his nights winning money in a floating fight ring, and his days as the ultimate college campus charmer. Intrigued by Abby's resistance to his appeal, Travis tricks her into his daily life with a simple bet. If he loses, he must remain abstinent for a month. If Abby loses, she must live in Travis's apartment for the same amount of time. Either way, Travis has no idea that he has met his match.

Once I seen the reviews for Beautiful Disaster I knew I had to read it; it seemed like one of those books that if you hate it, you absolutely HATE it and if you love it you swoon over it. I just KNEW I had to read it… and had a suspicion once I seen the comments on Travis Maddox that I would be on the opposite side of the views: that I would love him. And I did.
Let's start with Abby Abernathy. I disliked her. A lot and especially for the first 3/4 of the book. Towards the end of the book I started to like her a bit more but I just wanted to slap her most of the time. She could not get her head straight. She led Travis on, made stupid decisions and for someone who was supposed to be so smart, acted quite stupid for a large part of the book. I loved Travis. I know there is so many strong feelings about how he treated Abby and woman but I honestly liked him. I do think he was slightly possessive, but not in a scary way… more codependent if anything and Abby absolutely was as well. I also love bad boys, especially ones with tattoos. They will always be my weakness 😛 I adored America and Shepley through and through.. the two of them had 20x more sense than Travis and Abby combined plus they both adored their best friends.
I loved Travis's family. They were so sweet but with tough exteriors and had a great family dynamic, but not without their past struggles. I found it realistic as well and that was refreshing. Abby's situation.. not so much. It wasn't the fact of her actual family life, that was fairly realistic, it was the fact that she grew up around mobsters, had the balls to go to Vegas to face off with them and actually could get away with strolling through casinos in Las Vegas like she owned the place. Now, I have never been to Vegas nor have I ever been around mobsters but I'm just assuming… it's not entirely that easy to stroll into a casino as a minor and get away with half the shit she did. That part was strange to me… and felt a bit random to me.
Towards the end of the book I really tired of the back and forth Abby and Travis had though. I felt it dragged on a bit too long and that is what made me not love the story entirely. I knew they were going to end up together, it was just a fact of how so I was just waiting for it to happen. I enjoyed the ending a lot and felt it completely summed up their relationship: irrational, spontaneous and just a bit weird.
Despite the character flaws, and me not liking Abby I loved their relationship. It was just as addictive to read as it was for them to experience it. As I try to write this review, it's so strange because I have so many problems with the book but I really loved it. It was so addictive, I could not put it down… literally; I read it in one sitting. I know I've listed so many problems with Beautiful Disaster but I enjoyed it all the same. It's just a strange review to write… you really do need to read it to experience it.
It's definitely one of my favorite New Adult novels and I immediately went and picked up Walking Disaster… I absolutely need to read this from Travis's POV!