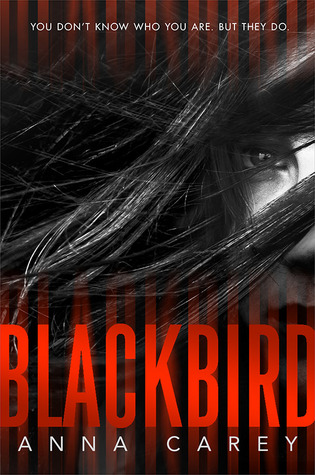 Pages: 256
Publication: September 16th 2014 by Harper Teen 
Series: Blackbird Duology #1
Source: HarperTeen via Edelweiss
Amazon • TBD • Kobo • Goodreads

A girl wakes up on the train tracks, a subway car barreling down on her. With only minutes to react, she hunches down and the train speeds over her. She doesn't remember her name, where she is, or how she got there. She has a tattoo on the inside of her right wrist of a blackbird inside a box, letters and numbers printed just below: FNV02198. There is only one thing she knows for sure: people are trying to kill her.

On the run for her life, she tries to untangle who she is and what happened to the girl she used to be. Nothing and no one are what they appear to be. But the truth is more disturbing than she ever imagined.

I'm on a constant search for thrillers, I love the feeling you get when you read them, when you have no idea what's going on and everything is a guessing game. Blackbird immediately sounded like something I would like with all of those qualities, so I couldn't wait to get started.
The main character, 'Sunny', is very interesting. Her entire character is shrouded in mystery, and since she has no idea who she really is, neither do you. I loved that aspect… there was so much guess-work involved in what might be going on and it keeps you interested to the very last page. It was hard to get attached her as a character though, because of this, but I did like her. You could tell she still had a lot of her own personal instincts intact though, she really cared about people that she met and she definitely knew right from wrong. Ben was also very interesting as well. I liked him throughout the book, but I never felt sure about him. Really, I didn't feel sure about anything or anyone that was happening because that is the way the novel was set up.
Blackbird's told in second person and when I first started reading it I thought for sure I wouldn't like it because it was really hard to get used to. However, within a few chapters I was used to the narrative and it didn't bother me anymore. I actually started to like it because it fit in quite nicely with the theme of the book: the main character doesn't know who she is so it's like she is speaking about someone else, not herself.
The plot was really good. It was so interesting and small bits are revealed at exactly the right time as you go read. It's very unique because what is truly happening under the surface isn't anything that I have seen before. That being said, the plot is odd. It's not anything that's realistic and some of the things that happen are definitely unrealistic (like with the cops). It's hard to elude to what I mean without revealing any plot points, which I don't want to do. Also, there is one 'major' thing that I could see coming from a mile away so I'm definitely intrigued by how that part is going to play out in book two. The pacing though, is fantastic. It's definitely a quick read and keeps you on the edge of the seat the entire time.
Blackbird definitely could have been a standalone novel. I think I would have liked it a lot more being able to read straight through until the end of the story. It's not a long book so it just feels like the story drops off at such an important part. Despite that, I have to finish the story so I will definitely be reading the second book.
I'd definitely recommend this one, as it's a really interesting and unique thriller, but maybe wait until the second book is out because it's one you'd want to read back to back.