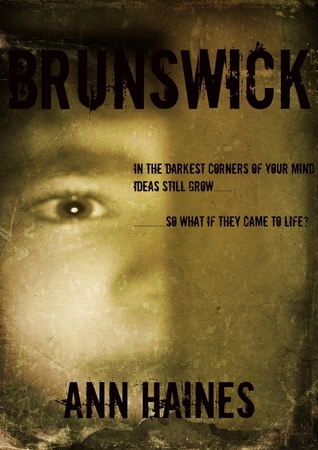 Brunswick by Ann Haines
Published by Self Published on March 01st 2012
Pages: 202
Source: From Author
Add on Goodreads
Amazon
My Rating:

When Jonathan wakes up beside a lake bruised and bleeding, he has no idea how he got there or where "there" really is. He must try to remember how he ended up in this place and why.

When he meets Grace and a group of people that seem to want to help him, he is thrown in to a world that he doesn't know. Haunted by visions and voices in his head, Jonathan soon realises that this world isn't as safe as he'd hoped.

Taken from his life and asked to save a land he knows nothing about, from a menacing hooded figure, Jonathan must learn quickly to survive. As he struggles to stay alive long enough to get home he is faced with a deadly choice, Join It or Die. And when it becomes clear that so many would do anything to kill him he must stay close to those who would kill for him.

To stay alive and get home he must face the one thing he never wanted to, the figure in black. And when the hood comes down Jonathan is faced with a revelation that could break him and destroy everything he has fought for.

In the beginning I was having a hard time getting into the story, I actually read a very small amount over about 4 days which is unlike me.  The closer it got to the weekend, I decided I had to commit to this book and when I sat down and actually focused on reading it, I really enjoyed it.  The reason it was not a 4 or 5 star rating for me is because I believe it was a bit of a younger story and that's the reason I could not get into it as much as I would have liked.  Most YA that I do read seems to be targeted at older teens whereas this story seems targeted to pre-teens or early teens.  I definitely recommend it to someone in the 11 to 15 age category.
Ann Haines did a wonderful job of world building with the imaginary land of Brunswick. I could really envision what Brunswick looked like and picture it in my mind and that is something that I really look for,  if I can't imagine the world it takes place in, the story will fall flat for me.
I also very much enjoyed how much of Jonathan's real life tied in with the imaginary land as well, I thought that was a unique factor and I liked how it also tied in Jonathan's father.
The ending was a twist I did not expect, which I shall not spoil for anyone, but it was really a twist that I did not even think of!
All in all this was a nice, cute read about a young boy who travels to an imaginary land.