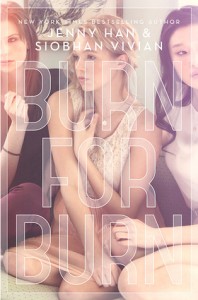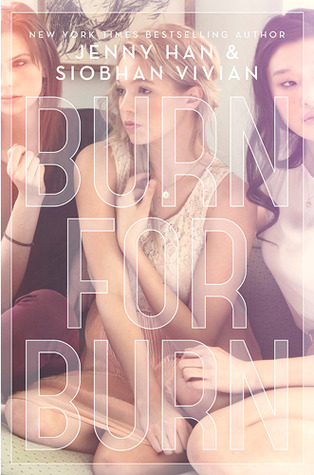 Pages: 368
Published: September 18th 2012 by Simon and Schuster Books for Young Readers
# in Series: 1st in Burn for Burn series
Source: Read via PulseIt
The Book Depository // Amazon // Chapters Indigo
 Summary from Goodreads:

"BIG GIRLS DON'T CRY…
THEY GET EVEN.

Lillia has never had any problems dealing with boys who like her. Not until this summer, when one went too far. No way will she let the same thing happen to her little sister.

Kat is tired of the rumours, the insults, the cruel jokes. It all goes back to one person– her ex-best friend– and she's ready to make her pay.

Four years ago, Mary left Jar Island because of a boy. But she's not the same girl anymore. And she's ready to prove it to him.

Three very different girls who want the same thing: sweet, sweet revenge. And they won't stop until they each had a taste."
My Thoughts & Review:
Burn for Burn's storyline is exactly what the synopsis says: three girls out for revenge.  Only two of the girls know each other, Lillia and Kat: they used to be BFF's.  Mary lived on the island when she was younger but she went to school on the mainland.
Let's start with the characters. Lillia was very much a passive person. She could not stick up for herself at all. Anytime someone pushed her around, or even when she started to feel dislike towards someone in her crowd, her opinion was soon changed. Kat was a bad ass and she didn't care what anyone thought of her. And Mary… she was so strange. She is made out to be a wallflower, someone who just wants to blend in and honestly there isn't really much to say about Mary because she wasn't focused on enough in this book. The only one of the girls who I felt even a slight liking for was Kat – I loved her no-nonsense attitude and the fact that she should stick up for herself.  The trouble with books that change between different points of view is that it often doesn't allow for certain or all of the main characters to grow on you and that is what I found happened here.
The entire focus on the novel is revenge.  I'm not sure why but I found it extremely hard to understand why the girls were doing a lot of the things to everyone. Maybe because this book is intended for younger audiences? I found the revenge parts of the book to be really… vindictive? Some of the things they do to these people are absolutely horrible – putting ectasty is someones drink? Retin-A in their sunscreen? This wasn't the same type of "revenge" that took place when I was in high school that's for sure. I actually felt bad for a lot of the victims, lol.
Another point which I found very strange was this sudden paranormal element? I felt it came out of nowhere or at least I wasn't expecting it! Also… this is so reminiscent of Carrie. So much in fact that I felt it to be not that original upon finishing.  The ending does have a cliffhanger but you can almost see where the story is going. I think Mary is going to be a large focus of the next book as she wasn't focused on very much during this one. That in it self irritated me… I felt like once you found out there was something a bit different about that's what you continued to read for and then….nothing.
Burn for Burn is an extremely easy to read novel, I finished it in a couple of hours. It is also my first time reading anything by either author.  I will continue to read this series as it was a simple read and I did enjoy it. I just hope the next book is better!
My Rating:


Happy Reading!