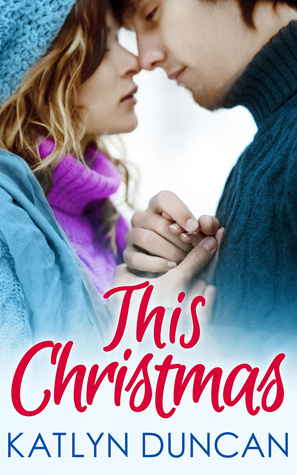 This Christmas by Katlyn Duncan
Series: This Summer #1.5
Published by Carina on November 18th 2014
Pages: 160
Source: Carina UK via Netgalley
Add on Goodreads
Amazon
My Rating:

This year, if Hadley wrote her dream Christmas list, it would go something like this:

1. Spend every waking – and sleeping – moment with her incredibly gorgeous boyfriend, Will.

2. Figure out what's been bugging him lately. Yes, going away to college has been tough…but it's time they reconnected.

3. Enjoy a sparkling Christmas in New York City, gazing at the Rockefeller tree, going ice skating, and drinking steaming mugs of cocoa in Central Park.

So, driving off to spend Christmas in a rustic cabin in the woods wasn't exactly the plan. But when it comes to her irresistible, and at times, impossible boyfriend, nothing's ever that simple. And as fantasies of an icy Times Square are replaced by a clumsily decorated tree, making snowmen and the warmth of a log fire, Hadley feels herself falling in love all over again.

Except does Will have something to tell her that could change Hadley's happily-ever-after Christmas dreams into a not-so-winter wonderland after all?


This Summer was one of my favorite books I read this summer (haha, no pun intended!) so I was thrilled to see This Christmas up on NetGalley – I had no idea there was a novella, let alone a CHRISTMAS novella!
I was really excited to see how Hadley and Will were making out in New York. While I loved, LOVED the ending of This Summer I really wanted to know what happened with their romance and future.
Well… it wasn't the delightful romance I was expecting. Hadley and Will haven't been spending a lot of time together because of Hadley's schoolwork and Will's work so they decide to go away to a cabin in the woods for Christmas, just the two of them.
There is a lot of conflict that takes place between the two of them. I couldn't stand it and just wanted to shake the two of them! I loved seeing more of Will and Hadley, but I wasn't swept away by this continuation.
It did end nicely, but AHH… so not where I thought the story was going. I can't say too much because it would defeat the purpose of reading the story, but I totally thought we were building up to a different ending. Ah well.
I hope I get to see more of these two in the future, but with the lovely, sweet romance I was expecting from This Summer!