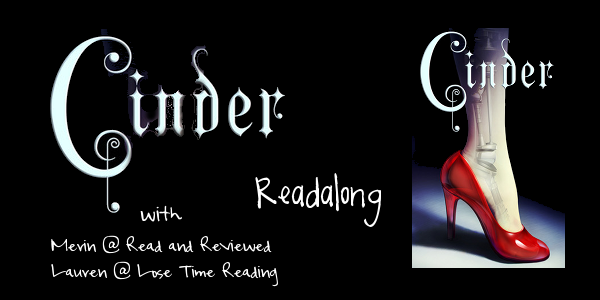 For the month of February, Merin and I decided to read Cinder. I seriously felt like we might have been the last two left on the planet who hadn't read this constantly raved about book. I was slightly apprehensive going into this due to all the hype … what if I didn't like it? I had a blast tweeting along with Merin as we read. This wasn't a formal readalong but we committed to read 3 chapters a night until we were finished… keep reading to see how I liked it! Don't forget to check out Merin's review over at Read and Reviewed today as well 🙂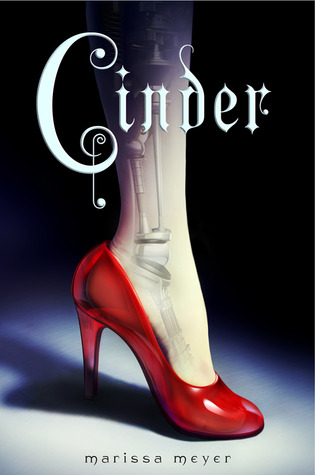 Pages: 387
Published: January 3rd 2012 by Feiwel & Friends
# in Series: #1 in Lunar Chronicles
Source: Purchased from Coles
Amazon | The Book Depository | Chapters/Indigo | Kobo
"Humans and androids crowd the raucous streets of New Beijing. A deadly plague ravages the population. From space, a ruthless lunar people watch, waiting to make their move. No one knows that Earth's fate hinges on one girl. . . . 

Cinder, a gifted mechanic, is a cyborg. She's a second-class citizen with a mysterious past, reviled by her stepmother and blamed for her stepsister's illness. But when her life becomes intertwined with the handsome Prince Kai's, she suddenly finds herself at the center of an intergalactic struggle, and a forbidden attraction. Caught between duty and freedom, loyalty and betrayal, she must uncover secrets about her past in order to protect her world's future."
My Thoughts & Review:
Cinder is a cyborg who lives with her stepmother and two step sisters in New Beijing. She works as a mechanic and all of the money goes to her stepmother. There is a deadly plague ripping through New Beijing and when her youngest stepsister contracts it, her stepmother sends Cinder off as part of the cyborg research. When she is admitted for the research, interesting and mysterious things are revealed about Cinder… all while she is getting close to the handsome prince, Kai who is trying to keep away the dangerous Lunar queen.
Cinder was an amazing protagonist. I absolutely loved everything about her. She was strong, determined and extremely interesting. There was always a mysterious element to Cinder throughout the novel so every chapter I was awaiting what her secrets would be. I also adored Kai, oh he was sweet. Obviously this was a Cinderella retelling so I expected the Prince to be charming and sweet, just like the original, however I didn't anticipating liking Kai as much as I did. I also adored Peony, Cinder's stepsister. I loved how this was a new twist to Cinderella. In the original as we all know, the two step sisters are evil however Peony and Cinder were very close. I really enjoyed that aspect and how her other stepsister was still evil. And Queen Levana… oh lord, I hated her. Every time she was in a scene, I was gritting my teeth… I could not stand her. I knew she was the main hated character going into the story, but gosh, I really didn't expect to detest her as much as I did.
The world-building in Cinder was exceptional. I loved the interesting futuristic element. I could easily imagine this future earth, which I enjoyed because often science fiction is so unbelievable to me that I have a hard time focusing or understand some of the concepts brought into the story. The fact that there is life outside of Earth, the interesting powers of the Lunars and the feud between the two made for a very exciting story.
The writing was phenomenal. I was absolutely enchanted by this entire story and I found it really hard to stop reading after 3 chapters. There were so many mini cliffhangers at every end. Cinder was actually my first retelling and it was just a pleasant surprise. The fact that Cinder was a cyborg made the story entirely unique to anything I've read. It was wonderfully executed and I think that this is the type of story that will appeal to everyone.
I think I was only about halfway in when I already committed to reading Scarlet. Marissa Meyer has just completely sucked me into this serious, I can't stop raving about this book. I was terrified because of the hype that I wouldn't see what the fuss was about, but clearly, no worry was needed. I absolutely loved every little thing about this book and I don't have a single negative thing to say about it… I cannot wait to start Scarlet 🙂
My Rating:

Happy Reading!
xo Lauren