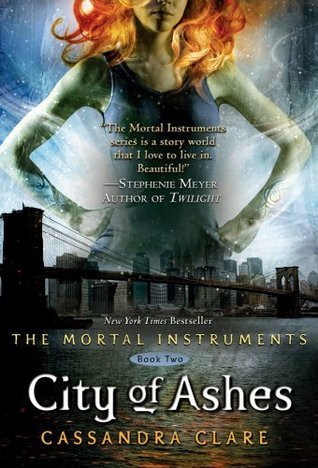 City of Ashes by Cassandra Clare
Series: The Mortal Instruments #2
Published by Margaret K. McElderry on March 24th 2009
Pages: 453
Source: Purchased at Coles
Add on Goodreads
Amazon•Kobo•TBD
My Rating:

A murderer is loose in New York City ...

... and the victims are Downworlder children. Clary Fray and her fellow Shadowhunters have a strong suspicion that Valentine, Clary's father, may be behind the killings. But if he is the murderer, then what's his true motive? To make matters worse, the second of the Mortal Instruments, the Soul-Sword, has been stolen, and the mysterious Inquisitor has arrived to investigate, with his eyes vigilantly targeted on Clary's brother, Jace.

Clary will need to face some terrifying demons and even more terrifying family decisions. No one said that the life of a Shadowhunter would be easy.

Let's start by saying I loved City of Bones. I rated it 5 stars so I absolutely adored it! I did not adore this book, I only "liked" it, and barely. The first 350 pages were doing nothing for me, I actually had to force myself to read this and honestly if it hadn't have been for Bout of Books and my insistence to finish it, I would have tossed it aside.
City of Bones left me wanting more, so much more. I was absolutely devastated that Jace and Clary were brother and sister so I could not even understand how Cassandra Clare was going to make that play out. Within about the first 50 pages I quickly realized that City of Ashes did not have the fast pace of City of Bones-it almost seemed rather predictable. The Simon situation was predictable, the Alec-Magnus situation was predictable, I just could not believe that this was the continuation to the book I loved so much.
I am happy that I forced myself to finish, the ending was satisfying to me. The last 100 pages really flew by and I read it in one sitting. It was very action filled, there was a few things I didn't expect and it ended on a good note.
I am really looking forward to reading City of Glass, I have heard from several people that it was the best one of the series so I really hope I am going to rediscover the love I had from City of Bones. City of Ashes was OK, but just not as enjoyable compared to City of Bones.