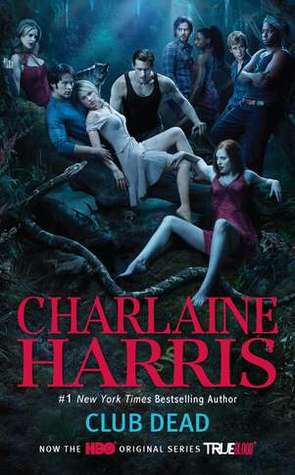 Pages: 292
First Published: April 29th 2003
# in Series: #3 in Sookie Stackhouse series
Source: Purchased at World's Biggest Bookstore
Amazon | The Book Depository | Kobo | Chapters Indigo
Summary from Goodreads:

"Things between cocktail waitress Sookie and her vampire boyfriend Bill seem to be going excellently (apart from the small matter of him being undead) until he leaves town for a while. A long while. Bill's sinister boss Eric has an idea of where to find him, whisking her off to Jackson, Mississippi to mingle with the under-underworld at Club Dead. When she finally catches up with the errant vampire, he is in big trouble and caught in an act of serious betrayal. This raises serious doubts as to whether she should save him or start sharpening a few stakes of her own …"
My Thoughts & Review:
I couldn't wait to get my hands on the third book! I'm collecting the tv tie in editions so it's a little bit harder to find these copies but I finally found it and dove right in. It's absolutely true that these books are getting better as they go along, I can't even remember what I didn't really like about the first book because the second and third were absolutely satisfying.
In Club Dead Bill has left Sookie for a secret project that he is doing. Before he left him and Sookie kind of took a break, because Bill was being very secretive about this project. Then Eric comes to Sookie and says that Bill has been kidnapped and may or may not be alive. Sookie is sent off to Jackson with a were and she has to find clues to what happened to bill and try to save him before it's too late.
I absolutely loved Alcide, the were that Sookie is with in Jackson. I was Team Bill thus far in and then Alcide was introduced and ahh, it was love. I also have taken a liking to Eric. It seemed that everyone loved Eric except for me so I'm glad that I finally started to like him in this book. Sookie also was much more badass in Club Dead which I loved. She is hanging around with vampires and shapeshifters so I was waiting for that innocent exterior that she had to rub off.
Club Dead is much more fast paced then the previous books and a lot more plot driven. I'm glad we have gotten most of the introductory characters out-of-the-way and the storyline is basically the main thing happening. There is a lot of action and I was on the edge of my seat waiting to see what happened to Bill and if he was actually alive! I also really enjoyed that we got to experience more supernaturals in this book and not just vampires(and Sam).
I loved Club Dead, and I immediately went and picked up the fourth book. I started this series not even thinking I would continue on and now I am so addicted to this vampire/human world!
My Rating:

 Happy Reading!