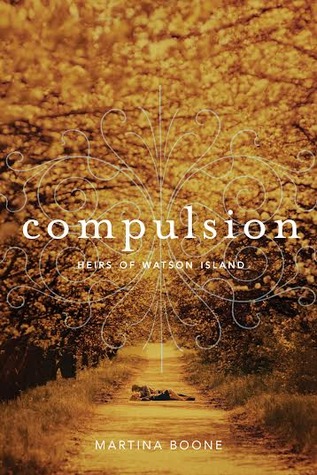 Compulsion by Martina Boone
Series: The Heirs of Watson Island #1
Published by Simon Pulse on October 28th 2014
Pages: 320
Source: Simon & Schuster via Edelweiss
Add on Goodreads
Amazon•Kobo•TBD
My Rating:

Three plantations. Two wishes. One ancient curse.

All her life, Barrie Watson has been a virtual prisoner in the house where she lives with her shut-in mother. When her mother dies, Barrie promises to put some mileage on her stiletto heels. But she finds a new kind of prison at her aunt's South Carolina plantation instead--a prison guarded by an ancient spirit who long ago cursed one of the three founding families of Watson Island and gave the others magical gifts that became compulsions.

Stuck with the ghosts of a generations-old feud and hunted by forces she cannot see, Barrie must find a way to break free of the family legacy. With the help of sun-kissed Eight Beaufort, who knows what Barrie wants before she knows herself, the last Watson heir starts to unravel her family's twisted secrets. What she finds is dangerous: a love she never expected, a river that turns to fire at midnight, a gorgeous cousin who isn't what she seems, and very real enemies who want both Eight and Barrie dead.


I was SO excited to read Compulsion. Southern gothic atmosphere, paranormal elements… it's exactly my cup of tea! I dove into this one… and then read… and read… and read. I felt like it took me forever to read it!
I'll put the endless reading aside for a moment to start from the beginning. The way the book opened up I felt kind of thrown into the story: The main character, Barrie, is waiting at the airport for her aunt to get her. She had just moved to South Carolina after her mother passed away, and her godfather, Mark was diagnosed with terminal cancer. Barrie decides to forgo waiting any longer for her aunt and catch a taxi to her aunt's plantation. I thought this was odd at first, but then I realized that this was typical Barrie fashion: she was going to exactly what she felt like doing.
I had a hard time connecting with most of the characters, specifically with the main characters. I enjoyed and liked them for the most part but the only character I really fell in love with was Aunt Pru. There was something about her that just warmed me up to her. She was instantly in love with Barrie, even though she just found out she had a niece and I loved that type of family togetherness. Barrie was certainly one in her own mind. She listened to no one, which got her into a fair share of trouble later on in the novel. I did like that headstrong personality she had, but we only started to see her development towards the end of the novel. I hope I get to see more of that in the later books. Eight was fun, and I enjoyed his relationship with Barrie. Cassie was just so obviously fake and annoying, I wanted to just scream at Barrie to pay attention!
I found the pacing a bit slow, as I said above. It took me so long to read this because it just didn't feel like the actual plot of the novel was moving fast enough, and I didn't get fully invested in the story until about 60% of the way through. Now, while the plot moved slow, the romance moved quickly. Too quickly and I just couldn't really jump on board with it. I liked the idea of Barrie and Eight getting into a relationship, and expected it to happen of course, but they actually fell in love in just a few days time. WAY too much instalove for me.
Those two things being my main issues with Compulsion, I LOVED the storyline. I thought it was interesting and unique and I cannot wait to see more of whats going to happen between the three founding families. I loved the spirits, and the curse and it was definitely the main part that drew me in. I hope we get to hear a lot more about the family history and treasure in the upcoming novels.
Overall, I enjoyed Compulsion. I thought the story definitely went out with a bang, with lots of doors left to be opened in the future books! I will definitely be continuing this series because I'm itching to know what happens with Barrie next after that ending.