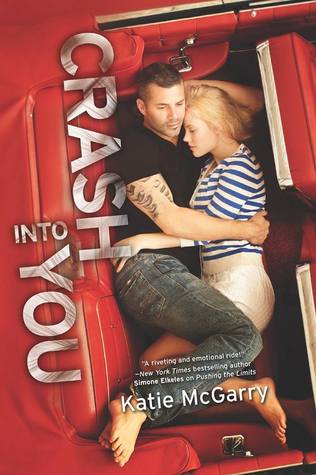 Pages: 474
Expected Publication: November 26th 2013 by Harlequin Teen 
Series: Pushing the Limits #3 
Source: Harlequin Teen via Edelweiss
Amazon | TBD | Kobo | Goodreads

The girl with straight As, designer clothes and the perfect life-that's who people expect Rachel Young to be. So the private-school junior keeps secrets from her wealthy parents and overbearing brothers…and she's just added two more to the list. One involves racing strangers down dark country roads in her Mustang GT. The other? Seventeen-year-old Isaiah Walker-a guy she has no business even talking to. But when the foster kid with the tattoos and intense gray eyes comes to her rescue, she can't get him out of her mind. 

Isaiah has secrets, too. About where he lives, and how he really feels about Rachel. The last thing he needs is to get tangled up with a rich girl who wants to slum it on the south side for kicks-no matter how angelic she might look. 

But when their shared love of street racing puts both their lives in jeopardy, they have six weeks to come up with a way out. Six weeks to discover just how far they'll go to save each other.


After reading Dare You To and finding out there would be another companion book I was practically hyperventilating. This is hands down one of my favorite series and while I loved Noah and Echo, the secondary characters from Pushing the Limits really were my favorites. I loved Isaiah in the first book and really loved seeing more of him in Dare You To(and actually had a hard time accepting Ryan at first) so when I learned that Crash Into You was Isaiah's story I was floored.
There was always something about Isaiah that I loved. I always fall for the tattooed, tough guys but something about Isaiah won me over more than others. I loved his soft interior and I especially loved how his favorite hobby was cars. I also really enjoyed Rachel. She wasn't my favorite of the PTL ladies but I liked her very much, and I adored her for Isaiah. I found her story interesting, and I really liked how she wasn't the cookie cutter girly girl who is so often seen. Growing up I was very much a tomboy; I hung out with more guys than girls, drove dirt bikes and ATV's, hung out at the race track(and with the "gearheads") and watched NASCAR every Sunday. I come from a car and race loving family so it was only natural that I grew up loving those things too. It's not super common for a teenage girl to have those interests through so for Rachel to love cars and racing it really struck a chord with me.
One part of Crash Into You that I really enjoyed was that it wasn't all about the romance for me. Now don't get me wrong, I absolutely enjoyed the romance between Isaiah and Rachel but I also loved the story and plot just as much. I was so anxious whenever Eric was mentioned and I couldn't stop reading in anticipation of what would happen. The street racing practically had my adrenalin pumping and whenever they were fixing cars I was in my glory. Katie McGarry did an excellent job with all the car related elements, and when I finished I had race fever SO badly!
True to her other books, McGarry also introduced two more fabulous secondary characters. West, Rachel's brother, had me roped in from the second he was mentioned. Backwards hat, rough around the edges… you had me at hello! And Abby… oh how I love Abby. She is the perfect best friend for Rachel, and I enjoyed their relationship. If my dreams could come true it would be West & Abby in the next book.
There isn't much more I can say about Crash Into You that others haven't said, it's wonderfully well written and a great continuation to this series. Isaiah is definitely my favorite of the boys and his story perfectly filled my expectations.