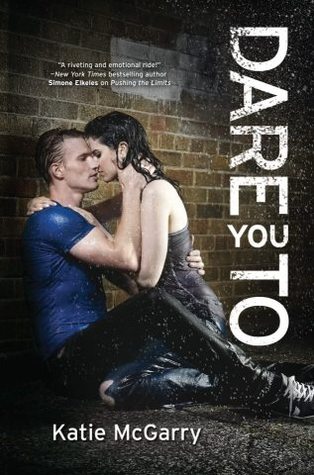 Pages: 304
Expected Publication: May 28th 2013 by Harlequin Teen  
Series: Pushing the Limits #2
Source: Harlequin via Netgalley
Amazon | TBD | Kobo | Goodreads

Ryan lowers his lips to my ear. "Dance with me, Beth."

"No." I whisper the reply. I hate him and I hate myself for wanting him to touch me again….

"I dare you…"

If anyone knew the truth about Beth Risk's home life, they'd send her mother to jail and seventeen-year-old Beth who knows where. So she protects her mom at all costs. Until the day her uncle swoops in and forces Beth to choose between her mom's freedom and her own happiness. That's how Beth finds herself living with an aunt who doesn't want her and going to a school that doesn't understand her. At all. Except for the one guy who shouldn't get her, but does….

Ryan Stone is the town golden boy, a popular baseball star jock-with secrets he can't tell anyone. Not even the friends he shares everything with, including the constant dares to do crazy things. The craziest? Asking out the Skater girl who couldn't be less interested in him.

But what begins as a dare becomes an intense attraction neither Ryan nor Beth expected. Suddenly, the boy with the flawless image risks his dreams-and his life-for the girl he loves, and the girl who won't let anyone get too close is daring herself to want it all….

Holy. Smokes… I was absolutely over the moon when I found out that there was going to be a second Pushing the Limits book. When I read Pushing the Limits I just barely enjoyed contemporary and it completely took me by surprise. I could not believe that a contemporary romance could make me feel all of the emotions that I did while reading it so I was thrilled to think that I would potentially experience it all over again. And I was completely right to be thrilled because Dare You To just surprised any and all of my expectations for it.
Beth was hands down one of my favorite characters in Pushing the Limits; at times I thought I actually loved her more than Echo so when I learned that the second book in the series would be focused on her I was ELATED! I loved Beth. Loved, loved, LOVED her. She was the most perfect imperfect character. I loved how real she was, how raw her emotions were and her strong and undivided loyalty to those she was most close to. I also love Isaiah… oh my word, I adore that boy. And I had a huge issue with the fact it wasn't him and Beth together, I wanted them together so bad. I was adamant that I would not like Ryan… nope, not happening. And then I fell in love with him too. Ryan Stone will sweep you off your feet ladies and gentlemen, completely and totally woo you. There relationship was just amazing. It was so flawed, realistic but beautiful. To watch their struggle together, and Beth's struggle to allow someone in, broke my heart so many times and then stitched it right back up again.
Beth's story is heartbreaking. I knew it was going to rip me apart but it really hits you. Katie McGarry is amazing at making you personally connect and feel what these characters do. It's remarkable. I never thought going into this (now) series that I would be totally addicted.
I could go on and on for hours but it's all going to come down to this: Read Dare You To. If you loved Pushing the Limits, you will love Dare You To. It's different from Pushing the Limits but still just as amazing. I do not have a single negative thing to say about it: the characters, the story, the romance… it's complete <3
I cannot wait for Isaiah's story.