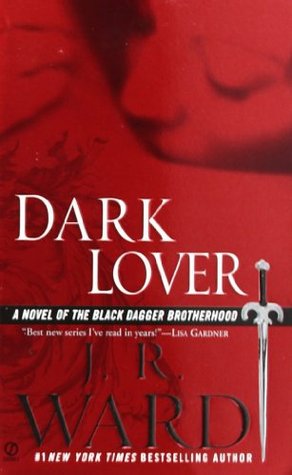 Pages: 393
Publication Date: November 06th 2005 by Signet 
Series: Black Dagger Brotherhood #1
Source: Purchased at Indigo Spirit
Amazon • TBD • Kobo • Goodreads

In the shadows of the night in Caldwell, New York, there's a deadly turf war going on between vampires and their slayers. There exists a secret band of brothers like no other-six vampire warriors, defenders of their race. Yet none of them relishes killing more than Wrath, the leader of The Black Dagger Brotherhood.

The only purebred vampire left on earth, Wrath has a score to settle with the slayers who murdered his parents centuries ago. But, when one of his most trusted fighters is killed-leaving his half-breed daughter unaware of his existence or her fate-Wrath must usher her into the world of the undead-a world of sensuality beyond her wildest dreams.


I picked up Dark Lover on such a random whim, I can almost not explain it. In early February, I really, REALLY wanted to read an adult paranormal. More specifically I wanted to reread A Discovery of Witches, but I had promised Cass that I would hold off to read it with her as it was her first time so the second book that came to my mind was Dark Lover. So many bloggers swooned and raved about this series, it was on my radar a bit but mostly in the background because I wasn't feeling a vampire story, and then suddenly I was and I scurried off to the bookstore and grabbed it up. And became addicted.
I honestly didn't know what to expect going into Dark Lover. It's been awhile since I read an adult paranormal series so I wasn't sure what to expect but I was so pleasantly surprised when I instantly became enthralled with the story from page one.
Each book in The Black Dagger Brotherhood follows a certain main vampire and their love interest. Dark Lover, follows Wrath, the leader of the BDB. I instantly, and I mean instantly fell in love with Wrath. He was so mysterious and sexily dangerous, gruff … oh did I mention sexy? I adored him immediately. I also loved Rhage (although I would find out JUST how much I loved Rhage in the second book), Tohrment and Vishous nearly instantly. Actually… if I didn't fall immediately in love with the Brotherhood, I was certainly intrigued by them. Z was a bit alarming, but I am nearly certain there is more underneath that exterior so I liked him too. Really, I'm not sure I could have disliked any of these guys if I tried!
The story itself is entirely unique. It's like nothing I have ever read and that thrilled me. Lesser's are soulless vampire hunters, and they were disgusting, creepy but so freaking interesting. They are essentially people who were horrible human beings (murderer's, rapist's, etc…) that chose to have their heart and soul removed to kill vampires. Oh! And vampires aren't evil! I love vampires, so I love when they are portrayed as good and for some reason I actually thought that wasn't the case in this series. I loved how the Brotherhood was this super elite, warrior group that looked over all of the civilian vampires.
A lot of the terminology and concepts were hard to get used to but thankfully, my copy had a guide at the start of the book so I was constantly flipping back and forth. Despite them being hard to remember, I really enjoyed them because of the uniqueness. I loved the Doggen (vampire butlers that go out during the day!) and I liked how vampires fed off of another vampire of the opposite sex.
Something I picked up on fairly early was that each warrior has a "disability" of sorts. In Dark Lover, it's Wrath's blindness but you are given small glimpses into what the other brothers' might be. I'm really intrigued to read on because they play a big part in their individual stories.
I just loved so much about the start of this series… Boo, The wedding ceremony, the Scribe Virgin (she's interesting… SOOOO interesting.), the WEAPONS! I could just rave and rave for hours (incase you missed it all on Twitter!) and I'm sure this review isn't even coherent because I can hardly put into words just how I felt reading this book. I am completely and fully invested in this series and I will be reading these as quick as possible! If you are looking for a sexy, interesting, AMAZING paranormal romance series to steal all your time. PICK THIS ONE!