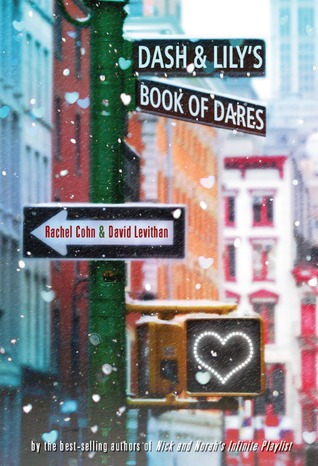 Pages:
 260
Published:
 October 25th 2010 by Knopf Books for Young Readers
# in Series:
Standalone
Source
: From Harlequin UK via Netgalley
Amazon | The Book Depository | Chapters Indigo
Summary from Goodreads:

""I've left some clues for you.
If you want them, turn the page.
If you don't, put the book back on the shelf, please."

So begins the latest whirlwind romance from the bestselling authors ofNick & Norah's Infinite Playlist. Lily has left a red notebook full of challenges on a favorite bookstore shelf, waiting for just the right guy to come along and accept its dares. But is Dash that right guy? Or are Dash and Lily only destined to trade dares, dreams, and desires in the notebook they pass back and forth at locations across New York? Could their in-person selves possibly connect as well as their notebook versions? Or will they be a comic mismatch of disastrous proportions?"
My Thoughts & Review:
 OMG! Why did I wait so long to read this? And frankly, I'm so disappointed in myself I read this after Christmas! It's just a fun Christmas-y book and I will definitely be picking this up next year. Since I'm late on joining this bandwagon, I'm not sure I will have much to add to the discussion that hasn't already been said… but I'll give it a shot!
I absolutely loved the characters.. Dash, hands down, might be one of my favorite male characters in a book thus far. His dry, sarcastic attitude was right up my alley. I loved how he always tried to sound so smart and over scholarly, and I really liked his hipster vibe.  I also really liked Lily. Normally melodramatic characters kind of irritate me but Lily had such a fun, unique personality it counteracted the melodramatics. And I'm not sure she would have been Lily without being a bit dramatic 😉 I also adored Lily's family… they were all a little bit strange and dysfunctional but meshed so well together, such a warm family unit.
The romance was absolutely adorable. I loved the idea of trying to find a boyfriend by hiding a notebook around the city and trading it back and forth. The entire idea was so fun and I loved that it began in a book store. The "dares" were completely innocent but a little risky at times and I could not stop reading to find out where they would lead each other to next.
Dash & Lily's took me absolutely no time to read… I flew through the entire book in a matter of a few hours. Rachel Cohn & David Levithan's writing flowed together so well, if I hadn't of read the note in the book, I would have had no idea who was writing which chapter. I loved their writing styles and it's safe to say this will not be my last collaboration book I read of them.
I 100% recommend this to anyone who wants a fun, fast read. I don't have a single negative thing to say 🙂
My Rating:

 Happy Reading!