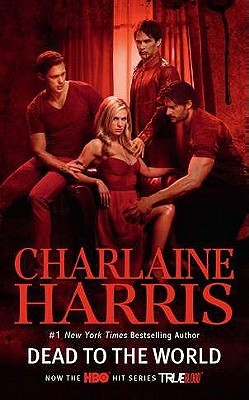 Pages: 304
Published: June 08th 2011 by Ace(first published 05/04/04)
# in Series: #4 in Sookie Stackhouse series
Source: Purchased from Indigo Spirit
Amazon | The Book Depository | Chapters Indigo | Kobo
Summary from Goodreads:

"When telepathic cocktail waitress Sookie Stackhouse sees a naked man on the side of the road, she doesn't just drive on by. Turns out the poor thing hasn't a clue who-or what-he is, but Sookie knows. It's the vampire Eric Northman-but now he's a kinder, gentler Eric. And a very frightened Eric, because it soon becomes obvious that whoever took his memory now wants his life."
My Thoughts & Review:
Sookie finds Eric on the side of the road. He has absolutely no idea who he is, where he is or who anyone else is. Sookie and the Fangtasia vampires collaborate to hide Eric in Sookie's house while they get to the bottom of who took Eric's memory. At the same time that Sookie is dealing with that situation, her brother Jason goes missing and Sookie has to try to solve that mystery as well… and hope that Jason is still alive.
Dead to the World is, by far, my favorite Sookie Stackhouse novel so far. I devoured Dead to the World. Along with these books getting better as the series goes on I also think Sookie is getting better as the series goes on. Her character development continues on with each book and I really enjoy that. Often with characters stretched over multiple books they end up staying the same and just the plot changes, but that is not true at all for the Sookie novels. Also Alcide was back 🙂 I absolutely LOVED him in Club Dead so I was so happy to have him back.
The most surprising part of Dead to the World for me was the fact that beginning this book I could have taken or left Eric… I ADORE him. I absolutely love him and if Bill never appeared in the next books, I don't think I could care less. The side of Eric that was displayed in this book devoured by heart whole. I hope this is a glimpse of a new, amazing Eric we will see in the future 🙂
I also loved that Charlaine Harris is introducing even more paranormals as the series goes on. Up this book? Witches! I couldn't have been happier to find out there was witches in this one, they are by far my favorite paranormal so I was ecstatic that Sookie now had to deal with witches as well!
Once again Charlaine Harris does not disappoint, I can't wait to grab the next book!
My Rating:

 Happy Reading!