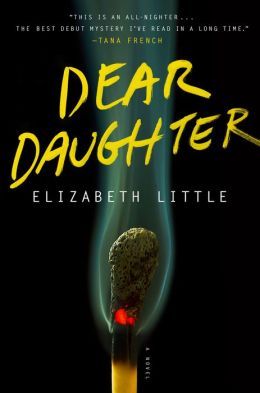 Dear Daughter by Elizabeth Little
Published by Viking Adult on July 14th 2014
Pages: 364
Source: Borrowed from the Library
Add on Goodreads
Amazon•Kobo•TBD
My Rating:

Former "It Girl" Janie Jenkins is sly, stunning, and fresh out of prison. Ten years ago, at the height of her fame, she was incarcerated for the murder of her mother, a high-society beauty known for her good works and rich husbands. Now, released on a technicality, Janie makes herself over and goes undercover, determined to chase down the one lead she has on her mother's killer. The only problem? Janie doesn't know if she's the killer she's looking for.

Janie makes her way to an isolated South Dakota town whose mysteries rival her own. Enlisting the help of some new friends (and the town's wary police chief), Janie follows a series of clues—an old photograph, an abandoned house, a forgotten diary—and begins to piece together her mother's seemingly improbable connection to the town. When new evidence from Janie's own past surfaces, she's forced to consider the possibility that she and her mother were more alike than either of them would ever have imagined.

As she digs tantalizingly deeper, and as suspicious locals begin to see through her increasingly fragile facade, Janie discovers that even the sleepiest towns hide sinister secrets—and will stop at nothing to guard them. On the run from the press, the police, and maybe even a murderer, Janie must choose between the anonymity she craves and the truth she so desperately needs.

A gripping, electrifying debut novel with an ingenious and like-it-or-not sexy protagonist, Dear Daughter follows every twist and turn as Janie unravels the mystery of what happened the night her mother died—whatever the cost.


My eye has really been catching on a lot of adult titles recently, which is quite different from my reading in the past several years, and the ones that are peaking my interest the most are definitely twisty thrillers. This was available on my library's Overdrive so as soon as I opened up my Kobo on Christmas I immediately started reading it!
I'm not sure if the narrator was supposed to be unlikable (but I kind of get that idea from it) but I actually liked her! Janie was definitely strange, but it fit so well. She went to prison when she was 16, so the fact that she spent most of her young, developing life away from society (and a large part in solitary confinement) can account for her oddities. The development of her character was good as well, and I liked how seemingly minor things like that fact that she didn't know some things about cell phones weren't overlooked. I also enjoyed the flashbacks to her young life, because it really played a part with the overall plot. Janie aside, the other characters were not intensely likeable as well. The entire town had this dark feeling about it, and it translated through to the characters. I enjoyed them all though and each one played an integral part to the overall story.
I loved Elizabeth Little's writing. The main character Janie speaks very strangely and her thoughts are a little bit odd, and the way it was written, was just perfect. The story and plot were fantastic. When Janie arrived in South Dakota, I thought I would get bored with the story but I learned pretty much immediately that it wasn't going to happen. It's written so well that you can't  help but keep reading. I actually stayed up WAY too late to finish this because I just couldn't wait to find out how it was going to end.
The ending surprised the hell out of me, honestly. I did NOT expect it to play out like it did, which made the story all the better for me. It was completely crazy, and what I thought was going to happen was definitely not what did. I loved that. I hate guessing, but it's automatic for me, so throughout the book I'm constantly making internal guesses so when I'm wrong I am thrilled. Now the ending-ending (not the huge unravelling of events but what came at the utmost end of the novel) did not please me. I'll say little else, but I just didn't enjoy that that's how it ended ultimately.
That's the only reason why I gave it 4 stars. I, personally, just didn't like the ultimate ending. The rest of the story: fantastic. I definitely recommend it, and I think that a lot of people will probably enjoy the way it ends. I liked it so much that I am going to be adding a copy to my personal collection!