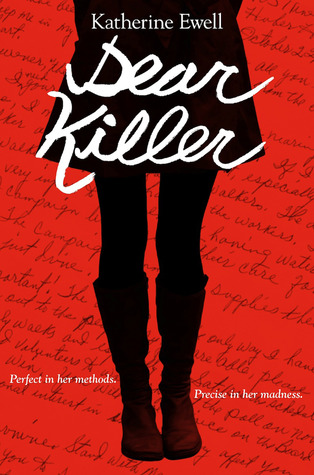 Pages: 288
Publication Date: April 01st 2014 by Katherine Tegan Books  
Series: N/A – Stand Alone
Source: Katherine Tegan Books via Edelweiss
Amazon • TBD • Kobo • Goodreads

Rule One—Nothing is right, nothing is wrong.
Rule Two—Be careful.
Rule Three—Fight using your legs whenever possible, because they're the strongest part of your body. Your arms are the weakest.
Rule Four—Hit to kill. The first blow should be the last, if at all possible.
Rule Five—The letters are the law.

Kit takes her role as London's notorious "Perfect Killer" seriously. The letters and cash that come to her via a secret mailbox are not a game; choosing who to kill is not an impulse decision. Every letter she receives begins with "Dear Killer," and every time Kit murders, she leaves a letter with the dead body. Her moral nihilism and thus her murders are a way of life—the only way of life she has ever known.

But when a letter appears in the mailbox that will have the power to topple Kit's convictions as perfectly as she commits her murders, she must make a decision: follow the only rules she has ever known, or challenge Rule One, and go from there.


I was intrigued about Dear Killer as soon as I seen it, I love books that are different, that don't follow current trends and despite seeing some very negative reviews about it I thought for sure I would like it.
Kit, the main character, is a serial killer and strangely enough she "inherited" this job from her mother. I knew Kit was a unlikable character going into the story, she was a murderer, so I was prepared to not like her. And I do often like extremely unlikable characters so I was excited about getting to know her. My problem with Kit wasn't that she was a terrible person in that she thought it was her rightful duty to kill people, it was that she was so cocky about it. She's known as the perfect killer because her murders are essentially flawless, they haven't even pinpointed a clue who the killer is. But gosh, Kit was soooo arrogant and that alone turned me off from her character. Her parents were horrible. I mean absolutely wretched. Her mother was cold, heartless and completely unnatural and her father was absent and loveless.
Seeing as how the plot point of Dear Killer is that Kit is a teenage hitman with no hint of being suspected, I knew the book was going to be unbelievable. That wasn't the problem that I had with the plot, it just got to the point of being ridiculous. There were several murders and events that occurred that if she was so "perfect" would clearly have left some footprints to her. And because she was so sure of herself, that she was so great at killing people, she kept pushing more and more boundaries which continued the trend of absurdity.
Another issue that I had with the story was the complete asinine set of parents Kit had. Honestly, her mother made me so angry at times I wanted to scream. And her father was just a blank emotionless wall who had little care about his family. It's no freaking wonder that Kit ended up so strange and disconnected with those people as parents.
Dear Killer touches on an interest topic: Moral Nihilism. It's mentioned several times at the start of the story, and while I know little about philosophy or Moral Nihilism, I wish that it had have been discussed a bit more as Kit was fascinated by it and has strong views, and essentially plays a large part in her murders.
For the first 60% of the book, I was really, really enjoying it. I like Katherine Ewell's writing a lot, despite the fact that I had strong emotions toward Kit, the story and her family, I just wanted to keep reading because her writing completely draws you in. It's different and unique and she is really a great story-teller. My major problems happened later in the story because I just felt like it was the same thing page after page and the story wasn't going anywhere, except getting more ridiculous. Unfortunatly for me, all those problems I had stacked up against each other and I was glad to finish Dear Killer. It definitely wasn't the book for me and I'm sad to say it won't be one I could personally recommend. That being said I will certainly give Katherine Ewell's next book a try because her writing is really fantastic.