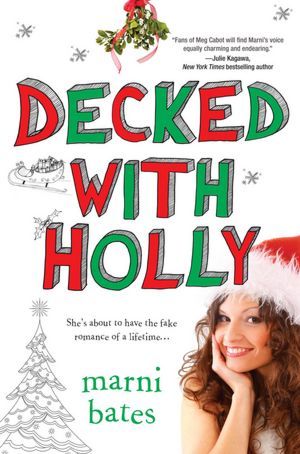 Pages: 272
Published: September 25th 2012 by Kensington 
Series: N/A – Stand Alone
Source: Borrowed from the library
Amazon | TBD | Kobo | Goodreads

Holly Dayton is about to go way out of her comfort zone. . .

Spending Christmas vacation on a cruise with her two cousins from hell isn't Holly's idea of a good time. And when in a moment of seasick-fueled desperation she lurches into an open suite–she's greeted with an eyeful of pepper spray. The culprit? A gorgeous guy calling himself Nick. But when Holly goes to make her exit, she gets the shock of her life: a corridor crammed with screaming teenage fans. Because Nick just happens to be Dominic Wyatt, drummer for ReadySet–one of the hottest bands in America.

Suddenly rumors are swirling, and Holly's face is captured on countless phones and plastered all over the Internet. But the band can't risk a scandal destroying their family-friendly image, so Dominic convinces Holly to be his fake girlfriend–just for two weeks. How bad could it be to be fauxmantically involved with one of the cutest rockstars on the planet? Holly's about to find out. . .

When I was making my reading list for the Ho-Ho-Ho Holiday Readathon, I knew that Decked With Holly would be at the top of my list. I had this on my Christmas list for a while, and considering I was struggling with reading in November, this seemed like the perfect light, fun read for me to pick up.
Immediately upon starting I knew I would like Holly. She was just so realistic. She was funny, a little nerdy, a rambling mess and had an amazing best friend. I loved her "voice", and it was really because of her that I wanted to keep reading so badly.
Nick. He REALLY had to grow on me. Honestly, I just couldn't STAND him at first. I thought Holly was so cute, and sweet and he was just MEAN. It's hard to explain because he really wasn't that bad, but some of the things he would say… argh, I wanted to slap him because I adored Holly so much!
The story itself was so funny. The concept altogether, where Holly gets seasick, runs into an open door on the cruise ship…pukes, gets pepper sprayed in the face by a celebrity and spends the night on the couch. Then the media finds her the next day, they have to pretend they are dating… there's a little romance… the entire story is just hilarious, you cannot help but enjoy it. It's cute, very light and easy to read. I loved Marni Bates fun writing style… I never found it draggy and felt like I needed to see how many pages were left. I wasn't entirely invested in the romance at first, and really until the end but I was rooting for it by the end of the book. The characters are just SO likeable that you cannot help but want it to be a happy ending.
The ONE thing that I did not like at all about the book however was Holly's family. I have nothing nice to say about them at all, they were TERRIBLE. One of the worst families ever. Granted, if they had have been better, the story would have been entirely different but seriously. Horrible people. I really disliked that Holly's grandfather did nothing to stick up for her, and the constant belittling really grated on me.
Beside that one thing, Decked with Holly is great. It's the perfect book if you want something cheesily romantic with a bit of comedy. It's really easy to read and definitely worth reading for the holiday season!