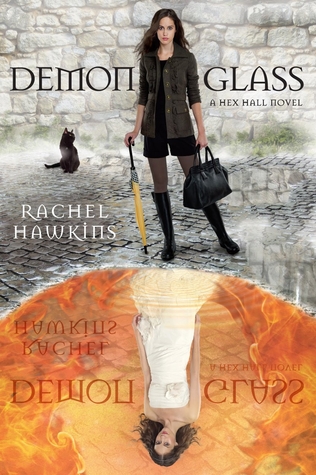 Pages: 384
Published: February 07th 2012 by Disney Hyperion 
Series:  Hex Hall #2
Source: Gifted from Secret Santa, Megan!
Amazon | TBD | Chapters/Indigo | Kobo | Goodreads

"Sophie Mercer thought she was a witch, which was why she was sent to Hex Hall, a reform school for delinquent Prodigium (aka witches, shapeshifters, and fairies). But that was before she discovered she's ademon, and her hot crush, Archer Cross, is an agent for The Eye, a group bent on wiping her kind off the face of the earth. What's worse, Sophie has powers that threaten the lives of everyone she loves. Which is why she decides to go to London for the Removal, a risky procedure that will either destroy her powers forever-or kill her. But once Sophie arrives, she makes a shocking discovery: someone is raising new demons in secret and planning to use their powers to destroy the world. Meanwhile, The Eye is set on hunting Sophie down, and they're using Acher to do it. But it's not like she has feelings for him anymore. Does she?"


*May contain spoilers for Hex Hall*
Demonglass begins at Hex Hall several months after the craziness that happened with Elodie, Alice and Sophie. Sophie is just starting to feel better with Elodie's and Alice's death, Archer's disappearance and she has also decided to undergo the removal. Her father, James(the head of Council) shows up and strikes a deal with Sophie: He will grant her the removal but first she has to spend the summer with him in England. Sophie agrees under her own condition, that Jenna goes with her. Her father also advises that Cal will be joining them as well. When Sophie, Jenna and Cal arrive in England they realize they are staying at Thorne Abbey; the house that Alice was turned into a demon many years before. Also… there are two more demons staying there with her. Strange things start to happen around her and Sophie and her friends are in a ton of danger.
Wow. Just wow. I hardly ever like the second book better than the first book in the series but that SO happened with Demonglass. It was far more action packed than Hex Hall and I liked the amount of new characters that were introduced.
I fell in love with Sophie, Jenna, and Cal all over again as soon as I started reading Demonglass. Jenna is by far my favorite character. I love how she is the total opposite of a stereotypical vampire. Sophie's snark had me again as well, I just love the snappy remarks she has for everyone. And Cal… well I love Cal! I am one hundred percent Team Cal in this series. We are also introduced to Nick, Daisy, Lara and a ton of other new characters. Nick and Daisy are demons as well, and despite them trying to be dark and scary I adored them! I thought they were really interesting and I knew they were going to play a huge part in the upcoming story. And Lara. From the get go I was sooo suspicious of her. I am naturally suspicious of incredibly sweet, kind characters. It happens too often that they are hiding something.
There were two things that bothered me during Demonglass. It didn't affect my rating or feelings of the book because it was just SO awesome that these two minor "nuisances" are minimal but nevertheless I noticed them soo… Why is the word angst used so much?! Ah.. I hated that. I actually enjoy the word angst and it can sum up those feelings pretty well but it is used over and over in this series and honestly it just lost its meaning for me. The second thing was the "love triangle". I actually enjoy a nice love triangle but I found this fell flat. The only romance that ever took place for Sophie, really, was with Archer. Cal wasn't really focused on in a romantic way and that made me sad. I adored Cal and I want him, NOT Archer 😛
I loved that Demonglass took place in England, away from Hex Hall. I loved the setting of Hex Hall but it was a really nice change of pace for it to take place in a scary ancient castle. The descriptions were so vivid, you can really paint a picture in your head what Thorne Abbey looked like. There was also sooo much action. I was on the edge of my seat so many times, and there was a twist every couple of chapters.
The ending was .. intense. As soon as I finished it, I had to immediately pick up Spell Bound! There is such a cliffhanger it will leave you dying for the next book!
If you haven't read Demonglass yet, what are you waiting for? It's amazing; my only recommendation would be to have Spell Bound on hand as well.