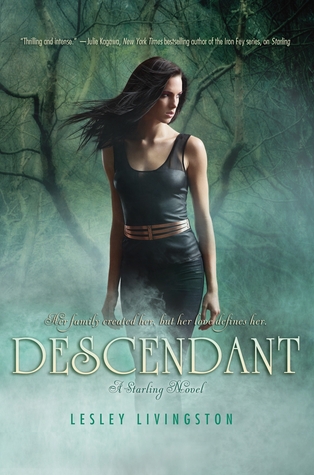 Pages: 325
Published: August 27th 2013 by Harper Teen 
Series: Starling #2
Source: Purchased at Harper Collins Booth (Fan Expo 2013)
Amazon • TBD • Kobo • Goodreads

The last thing Mason Starling remembers is the train crossing a bridge. An explosion . . . a blinding light . . . then darkness. Now she is alone, stranded in Asgard—the realm of Norse legend—and the only way for her to get home is to find the Spear of Odin, a powerful relic left behind by vanished gods.

The Fennrys Wolf knows all about Asgard. He was once trapped there. And he'll do whatever it takes to find the girl who's stolen his heart and bring her back—even if it means a treacherous descent into the Underworld. But time is running out, and Fenn knows something Mason doesn't: If she takes up the Spear, she'll set in motion a terrible prophecy. And she won't just return to her world . . . she'll destroy it.


I have zero idea why I held off so long to read Descendant. I really enjoyed Starling, and last year at Fan Expo I was dying to pick this one up to start right away. Yah, that didn't happen and then randomly in July I seen it on my shelf and knew I had to read it immediately.
Descendant leads off nearly at the moment that Starling ended. I was worried that there might be a gap in story, but alas it didn't!
Mason is definitely much stronger in Descendant. She seems to have an extra push in her that she didn't in Starling, and her claustrophobia doesn't seem to have as big of an impact on her. Fenn is still awesome as he was in Starling. It's really hard to think back about the impact that the characters had on me, because really the punch that Descendant packs is in its story, plot and the never-ending action…
One of the things that I absolutely adore about this series is the non stop action. There isn't a single moment in both Starling and Descendant where there is a lull in action or plot. The pacing is fantastic, I couldn't put this book down and it's definitely a one sitting type of read.
Once again the mythology drew me into the story. Over the past year I have really taken a bit interest in mythology so that aspect thrilled me even more in Descendant than it did in the first installment. I was much more familiar with a lot of the characters so I think that played a part in drawing me in. There is a lot of mythological beings that are shown in this book and I enjoyed encountering everyone.
Descendant was a perfect second book in this series. I didn't find that there was the seemingly regular second-book-syndrome and I'm itching to read the third and final book in the trilogy. There was another huge cliffhanger at the end, so I have no idea where Transcendent will take us or what will happen!