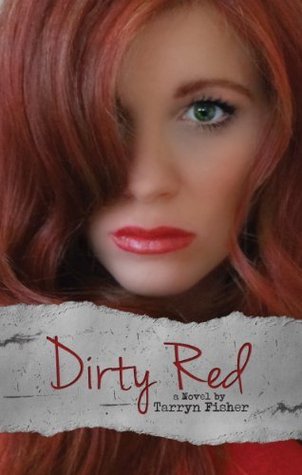 Dirty Red by Tarryn Fisher
Series: Love Me with Lies #2
Published by Self Published on December 21st 2012
Pages: 265
Source: Purchased on Kindle
Add on Goodreads
Amazon
My Rating:

Dear Opportunist,

You thought you could take him from me, but you lost. Now, that he's mine I'll do anything to keep him. Do you doubt me? I have everything that was supposed to be yours. In case you were wondering; he doesn't ever think about you anymore. I won't let him go....ever.

Dirty Red

Leah Smith finally has everything she has ever wanted. Except she doesn't. Her marriage feels more like a loan than a lifelong commitment, and the image she has worked so hard to build is fraying before her eyes. With a new role and a past full of secrets, Leah must decide how far she is willing to go to keep what she has stolen.


It's no secret that The Opportunist was one of my favorite reads of 2014, I completely fell in love with the story, the characters and Tarryn Fisher's writing. Don't even ask me why I waited an entire year to pick up Dirty Red because I have no idea but as soon as I started I knew I was just as captivated by the story as I was The Opportunist.
I knew going into this book that Leah was the main character so I expected to despise her just as much as I did in The Opportunist. She was cutthroat, conniving, selfish and I wanted her to keep her grubby hands off Caleb! I had no idea that I would feel SYMPATHETIC towards her reading this… my skin crawls just thinking that sometimes my heart squeezed for her a bit! Leah is 10x worse in Dirty Red than she was in The Opportunist, I mean she is warped. She does everything, everything, with an agenda … including having a baby and it made want to scream so many times throughout the story. And then, on the other hand, sometimes I felt so SAD for her. She had a terrible childhood, she was neglected of attention and love and that has obviously played a huge part in the way she is today. During her flashbacks, I felt so awful about the way she was treated. And then she'd do something fucked up and be back at square one. She was infuriating. We really got to see a different side of Caleb with his daughter. I loved how affectionate and loving he was to her and basically playing the role of two parents when he could. AND SAM! Haha, I really did enjoy Sam. He was a terrific Nanny, and one of the few people to really put Leah in her place. The odd thing I found was that Olivia was like a totally different character to me in Dirty Red. I guess because she isn't the main character in this novel, we are seeing her in a different light but she just seemed so different!
Dirty Red had me in the same reading zone that The Opportunist did. I couldn't put this down, and every spare minute I had I had my Kindle out to read it. Tarryn Fisher is a phenomenal writer – I mean phenomenal. I detested Leah in the first book and while I still detest her, the fact that Tarryn Fisher could even squeeze a little bit of sympathy out of me for her is a wonderful display of how great she is at character building and storytelling.
I was really surprised at the ending. I shouldn't even BE surprised anymore reading this series because of the crazy roads it seems to go down but I was legitimately left with my mouth hanging open at the end of this book .. I couldn't believe where this story was going! I immediately went and downloaded Thief – something I haven't done for as long as I can remember.
If you haven't read The Opportunist, or if you have and are hanging back from reading Dirty Red – DO IT! This series will completely suck you in. I am so attached to these characters, even though I cannot stand half of them, I just need to see where they end up and what else they will do for love.