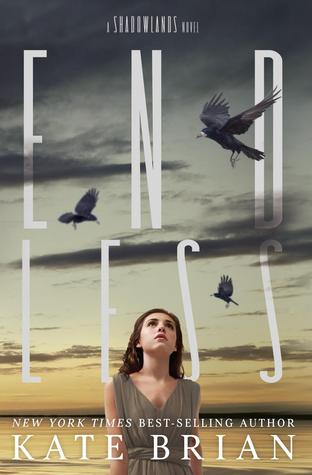 Endless by Kate Brian
Series: Shadowlands #3
Published by Disney-Hyperion on July 22nd 2014
Pages: 304
Source: Purchased at Chapters Indigo
Add on Goodreads
Amazon•Kobo•TBD
My Rating:

An unthinkable betrayal threatens everyone Rory loves in the third installment of our dark, thrilling Shadowlands series from New York Times best-selling author Kate Brian.

Rory Miller didn't just fall in love with Tristan Parrish. She fell in love with the idea of forever. He was the one who told her the truth about her existence in Juniper Landing: that her mortal life is over, and she will now spend eternity on the island, helping others in limbo move on.

But like Juniper Landing, a bright island with dark secrets, Tristan is too good to be true. The mysterious, heartbreakingly beautiful boy Rory thought she knew is responsible for unthinkable evil-sending good souls to the Shadowlands in order to get himself a second chance at life on Earth. He has already claimed Rory's friend Aaron and her own father, but when SPOILER Tristan sends her sister, Darcy, to the Shadowlands, too, Rory decides to take matters into her own hands. She will do anything to save her family, even if it means going to hell and back.


This entire series has been one big shocker, from what the actual book is about (definitely not contemporary thriller like I initially thought) to who was guilty and participating in the events. So needless to say I couldn't wait to find out what was actually going on in Juniper Landing!
The thing I noticed the most about Endless was that it wasn't as focused on the characters as the previous books, which makes sense seeing what happened in the previous two books. I went into this with plot, plot, plot in my mind and Kate Brian definitely delivered on that. We already seen the characters, and more prominently Rory, develop in the previous books so it was nice to settle into a final book where we were already comfortable with the characters. Well, I use comfortable loosely because I was certainly still suspicious this time around as well. There are a few new characters introduced, but for the most part, it's the same group as Shadowlands and Hereafter. There are two new people who are introduced, the Tse twins, and holy smokes they gave me the creeps! I was on edge whenever they were around … Kate Brian really does a great job with building creepy and suspicious people!
When I said that I wasn't shocked that Tristan was the one involved in the shenanigans on the island in my review for Here After, I really wasn't shocked at the time. Then within about 20 pages into Endless, I really started to believe that perhaps we were tricked into thinking it was Tristan in the last book and he really wasn't the guilty party. This mood carries on throughout the course of the novel and I was equal parts torn with wanting him to be innocent because him and Rory, and wanting him to be guilty because I couldn't believe that we were tricked like that at the end of Hereafter!
I found the pacing of Endless a bit slow. I thought that at times the story dragged on, and things could have progressed quite a bit faster than they did. Other than that the plot was there, the element of suspicion was still there, and also a few twists just like the other books in the series.
One thing that I had to comment on, and I just found kind of disjointed and unneccessary, was the odd love triangle that happened in Endless. Tristan, Julian and Rory? It was just weird and didn't really fit the theme of the book for me. It wasn't BAD, and I can see how it could have happened as Rory was needing someone to be there for her, but just… odd.
Sadly, I figured out who was behind all of the nasty happenings on the island pretty early on. Well, I won't say I figured it out exactly, I just guessed and held onto that guess to the end and it turned out I was right. I was pretty disappointed that after a series that really kept me on my toes, suspicion-wise, that aspect turned out to be pretty lackluster for me. NOW… the ending was perfect for me. Just perfect, I love how it was wrapped up very well and how everything turned out. Obviously I won't give away anymore than that, but there are certain things that happen at the end that just warmed my little heart!
Although Endless wasn't my favorite of the series and despite my issues with the pacing and the 'big reveal', I still definitely recommend this book and most certainly the entire series. It's an interesting, edge-of-your-seat, unique read and from the beginning to the end of the trilogy, I was completely invested.