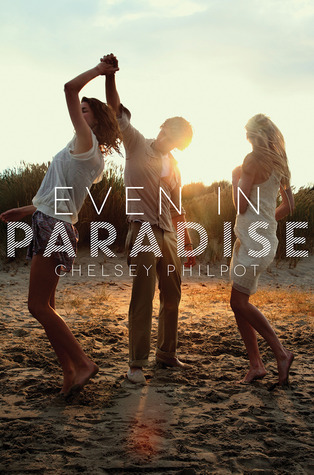 Even in Paradise by Chelsey Philpot
Published by HarperCollins on October 14th 2014
Pages: 368
Source: Harper Collins via Edelweiss
Add on Goodreads
Amazon•Kobo•TBD
My Rating:

When Julia Buchanan enrolls at St. Anne's at the beginning of junior year, Charlotte Ryder already knows all about the former senator's daughter. Most people do... or think they do.

Charlotte certainly never expects she'll be Julia's friend. But almost immediately, she is drawn into the larger than-life-new girl's world—a world of midnight rendezvous, dazzling parties, palatial vacation homes, and fizzy champagne cocktails. And then Charlotte meets, and begins falling for, Julia's handsome older brother, Sebastian.

But behind her self-assured smiles and toasts to the future, Charlotte soon realizes that Julia is still suffering from a tragedy. A tragedy that the Buchanan family has kept hidden … until now.

I'll admit, the sole reason why I picked up Even in Paradise was the fact that the synopsis said there was a family tragedy that was kept hidden. Secrets as a plot point just appeal to me in such a way it's nearly impossible me to avoid reading the book once it's mentioned 😛
The characters were very endearing. Charlotte, or Charlie, as she is affectionately dubbed by the Buchanan's was a great character. I loved that she was an artist, and focused on that at school. She had an interesting group of friends, and sadly we didn't get to see too much of them but throughout the story you really came to know that Charlie valued her friends above all else. Even when she was making mistakes, she always came back to them. I liked Julia as well, I thought she was interesting but I had a major issue with her character. I am really, really tired of the beautiful-charming-but-has-a lot-of-emotional-issues rich girl who is so abundant in books right now. It's a very predictable character, and I knew within 20 seconds of Julia being introduced that it was the same road that was being travelled in this story. That aside, Julia was interesting and I loved Charlie and Julie's friendship a lot. Charlie was Julia's rock, and Julia her's and I loved reading their mutual story. The Buchanan's were amazing. They were just so loving and warm to Charlie, I instantly fell in love with them and I could see why Charlie did too.
The story itself was predictable, especially the tragedy that the family kept hidden. When it was finally revealed, I was disappointed although I knew it was coming. I guess I held out a smidgen of hope that it would have been something different. Even though the story was predictable and I basically knew how it was going to play out, I couldn't put it down. Reading about Charlie and Julia and the rest of the Buchanan's was almost addictive. I couldn't get enough of the family and the friendship and the romance.
I did enjoy Even in Paradise very much but it felt a lot like a book I had recently read albeit with quite a bit less darkness to the story. With the rich family, the estate, the family secrets, the girl from an outside world looking in it just didn't feel like something new that I was reading. That aside, the writing was beautiful, and it was an emotional and heart tugging read. I was definitely not dry-eyed when I finished the book.
The ending was sad because I was looking for a happy ending that didn't really happen but it was a nice ending and I enjoyed how it wrapped up, and the final lines. I enjoyed Chelsey Philpot's debut novel, despite the issues I had with it and I will definitely be checking out what she has upcoming!