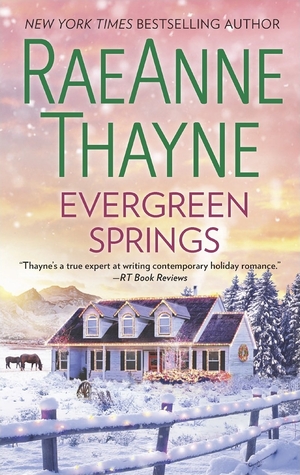 Evergreen Springs by RaeAnne Thayne
Series: Haven Point #3
Published by HQN Books on September 29th 2015
Pages: 384
Source: Harlequin via Netgalley
Add on Goodreads
Amazon•Kobo•TBD
My Rating:

Christmas is the last thing Cole Barrett is thinking about this year. He's barely hanging on trying to care for his two grieving children since his ex-wife died in a tragic accident. For the reclusive Cole, this is no time for gift-giving and celebration—and certainly not for a sunny-natured optimist to blow into his screwed-up life.

In the years since her cancer treatments, physician Devin Shaw has researched the curative powers of Lake Haven's mineral waters. Unfortunately, the hot springs are on Barrett property, forcing Devin to strike a bargain with the ranch's attractively gruff owner: she'll give Cole's children the magical Christmas they deserve, and Cole will allow her patients access to the springs. But can she work her holiday magic to heal the Barrett family's battered hearts—and her own?


I was so excited to have the opportunity to read and review Evergreen Springs in advance; I fell in love with this series and the characters last year when I read Snow Angel Cove and I have been eagerly anticipating every new book in the series!
I was slightly let down with Redemption Bay, especially after the magic of Snow Angel Cove so I couldn't wait to read Evergreen Springs. I normally adore Christmas themed books so I was excited to see if this one brought back the magic of the series for me!
I was really looking forward to reading Devin's story; she really intrigued me in Redemption Bay and I really loved her sister so I figured this would be a no brainer – and right I was! I really loved Devin. She was so kind and big-hearted, and had room in her life for everyone that passed through. Cole took me a bit to like, but when I did, did I ever! He was gruff, sexy, and just though two traits alone would have had me but the adoration he had for his children was amazing.
Romance's are normally fairly typical when it comes to plot point: start falling in love, issue happens and then it's overcome and it's happy ever after. Evergreen Springs is no different, but the story was incredibly heartwarming. The fact that it took place around the holidays played a huge part, I had to devour this in just a few separate pickups because it was such a great read.
My only downfall with this book was the fact that all of sudden it was over. I like a bit of a story at the end after all is said and done and I feel like I was robbed of it a bit. It was a great outcome and I was thoroughly satisfied in that aspect but I really wanted to see more of Cole and Devin together, especially with the children (because they were adorable!!).
If you are just discovering this series, I would highly recommend starting it, especially over the holiday season! It's a fantastic continuation of the people of Haven Point and I can't wait to see what's next in this series.