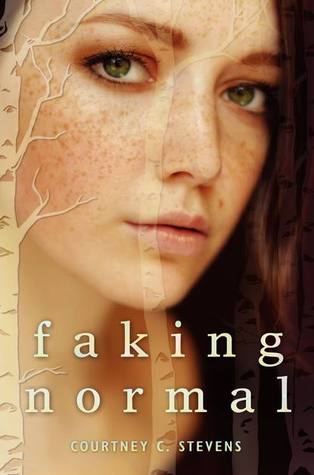 Pages: 336
Published: February 25th 2014 by HarperCollins Children's Books 
Series: N/A – Stand Alone 
Source: From HarperCollins via Edelweiss
Amazon • TBD • Kobo • Goodreads

Alexi Littrell hasn't told anyone what happened to her over the summer. Ashamed and embarrassed, she hides in her closet and compulsively scratches the back of her neck, trying to make the outside hurt more than the inside does.

When Bodee Lennox, the quiet and awkward boy next door, comes to live with the Littrells, Alexi discovers an unlikely friend in "the Kool-Aid Kid," who has secrets of his own. As they lean on each other for support, Alexi gives him the strength to deal with his past, and Bodee helps her find the courage to finally face the truth.


I was quite excited to get started on Faking Normal; I knew going into it, it was a heavy topic and it was going to be an emotional read but I was really looking forward to this debut … and let me tell you that it didn't disappoint!
Alexi, the main character, was raped over the summer and is struggling alone. No one knows about this, not her family and not her best friends. She tries to cope with this on her own and is in an extreme amount of pain inside. I really, really liked Alexi. I thought she was very real and her pain was heartbreaking throughout the book. The other main character, Bodee, has just lost his mother and comes to live with the Littrell's. Alexi and Bodee have an instant connection because they are both in immense emotional pain and they form an amazing friendship. Heather and Liz were Lex's best friends and while I was kind of impartial to Heather, I really enjoyed Liz. She was very mature for her age and not as rash and drastic as Heather. Kayla was Alexi's sister and she was TERRIBLE. I thought she was such an awful person and despite her trying to redeem herself at the very end of the book, I couldn't like her after the horrible things she did to Alexi throughout the story.
My absolute favorite part, strangely enough was Bodee's story. I didn't realize going into Faking Normal that he would play such an important part but I fell head over heels for Bodee. My heart ached, and ached for him … he had such an incredibly difficult life and then suddenly his mother is stolen away from him? I sobbed for him several times during the course of my reading. I also ADORED his softness and treatment of Alexi. He just knew exactly what to do to help her, and be there for her. He was perfect. Honestly, I'm not sure I would have fallen so hard for this book had it not been for Bodee.
I love the way Courtney Stevens told Alexi's story. I felt like the touch topics in Faking Normal were not glazed over, but handled very well and were incredibly emotional. My heart broke for Alexi over and over, and when it was finally revealed who assaulted her, I was shocked. I also really appreciated the ending, I thought it was handled wonderfully and I finished the book feeling satisfied with the outcome.
I would highly recommend picking up Faking Normal. Although it's heart wrenching and sad at times it's also a wonderful story of friendship and love.