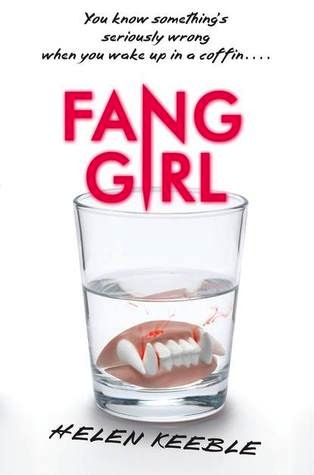 Pages: 352
Published: September 11th 2012 by HarperTeen
Series: N/A – Stand Alone
Source: Borrowed from the library

Sure, the idea of vampires is sexy, but who actually dreams of spending eternity as a pasty, bloodthirsty fifteen-year-old?

Not me.

Unfortunately, the somewhat psychotic vampire who turned me into a bloodsucker didn't bother to ask first. Now I'm dealing with parents who want me to vamp them, a younger brother who's convinced I'm a zombie, and a seriously ripped vampire hunter who either wants to stake me or make out with me. Not sure which. Oh and PS, none of my favorite fanfic prepared me to deal with vampire politics—which are looking pretty tricky based on the undead Elder trying to hunt me down.

What's a vampire-obsessed fangirl turned real-life fanggirl supposed to do?


Ever since I participated in the Fang Girl book blitz back in December I've been dying to read this one. The excerpts were hilarious and I already knew that I would love Helen Keeble's writing style. I had a hard time finding this at the bookstore so when I finally got my library card this was one of the my first requests!!
The main character, Xanthe, or Jane was hilarious! I loved her snarky, dry sense of humor and even though she was a vampire, she was such a realistic 15-year-old. I actually loved her entire family, especially her little brother. Even though they came of as a bit corny at times, they were so loving and also provided a ton of laughs.
Fang Girl is so hilarious that it borders on making fun of the vampire genre. It was exactly what I needed in a paranormal, especially vampire lore. It seemingly poked fun at some of the silly vampire stereotypes that exist now and it was altogether chapter after chapter of laughs.
There was a twist on a love triangle as well, which I thoroughly enjoyed. I'm so sick of love triangles and the fact that they are all the same but Helen Keeble did a good job with having one, but mixing it up… you actually might not even be able to tell there is a bit of one 😛
Fang Girl was fast paced and kept me quite on the edge of my seat. It wasn't over the top action but the suspense of what was going to happen, who this mystery member of the bloodline was, who Lily really is… I just needed to have answers. Luckily Helen Keeble's writing style is wonderful. At no point during reading Fang Girl did I feel like it was dragging on, and the comedy adds so much to the pacing as well.
I don't want to reveal too much of the story as there are a few "twists", so I'll leave my review at that. If you are eyeing this up, love paranormal with comedy and even if you are getting sick of the generic vampire novels, definitely give Fang Girl a try!
I cannot wait to read Helen Keeble's upcoming novel!



Happy Reading!

xo Lauren