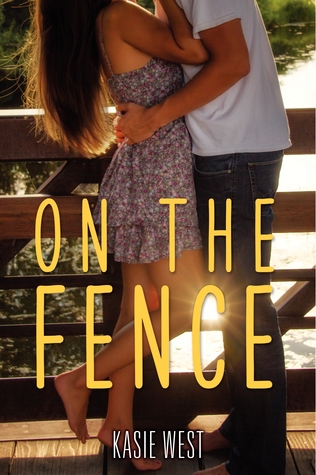 Pages: 304
Published: July 01st 2014 by Harper Teen 
Series: N/A – Stand Alone
Source: HarperTeen via Edelweiss
Amazon • TBD • Kobo • Goodreads

She's a tomboy. He's the boy next door…

Charlie Reynolds can outrun, outscore, and outwit every boy she knows. But when it comes to being a girl, Charlie doesn't know the first thing about anything. So when she starts working at a chichi boutique to pay off a speeding ticket, she finds herself in a strange new world. To cope with the stress of her new reality, Charlie takes to spending nights chatting with her neighbor Braden through the fence between their yards. As she grows to depend on their nightly Fence Chats, she realizes she's got a bigger problem than speeding tickets-she's falling for Braden. She knows what it means to go for the win, but if spilling her secret means losing him for good, the stakes just got too high.

Fun, original, and endearing, On the Fence is a romantic comedy about finding yourself and finding love where you least expect.


Shall we just start with the fact that I LOVE Kasie West? Having loved every book she has ever put out, I knew… just KNEW that I would love On The Fence and I couldn't wait to finally get to reading it…
Charlie instantly made me love her. She is exactly the type of main character I adore. I'm not a girly girl by any stretch of the imagine so the fact that she was a tomboy instantly made me fall in love with her. She was spunky, interesting, amazing at sports but also had insecurities so she wasn't perfect. All of Charlie's brothers I loved as well. Their entire family circle, including their father, was just so tight-knit and loving I instantly fell in love with them all. And Braden… oh, there is Braden. He's the boy next door, but also her and her brother's mutual best friend, and actually that is what instantly sucked me into the story. I love the best friend turned boyfriend trope, it never gets old for me so I was so antsy waiting for it to unfold here! And Braden is just sweet and sexy and perfect… so there's that as well 😛
The story was fantastic. It wasn't a story that was unpredictable or kept you on the edge of your seat but it was fabulous. Kasie West is an amazing, amazing author so she just has this touch she adds that makes it perfect. I just couldn't stop reading about Charlie and Braden; I was completely sucked in.
I definitely recommend On the Fence if you are looking for a great contemporary romance. It's FANTASTIC!