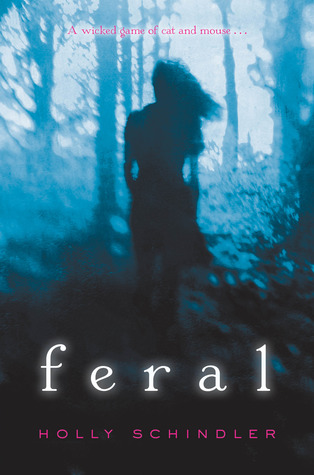 Pages: 432
Publication: August 26th 2014 by Harper Teen 
Series: N/A – Stand Alone
Source: HarperTeen via Edelweiss
Amazon • TBD • Kobo • Goodreads

It's too late for you. You're dead. Those words continue to haunt Claire Cain months after she barely survived a brutal beating in Chicago. So when her father is offered a job in another state, Claire is hopeful that getting out will offer her a way to start anew.

But when she arrives in Peculiar, Missouri, Claire feels an overwhelming sense of danger, and her fears are confirmed when she discovers the body of a popular high school student in the icy woods behind the school, surrounded by the town's feral cats. While everyone is quick to say it was an accident, Claire knows there's more to it, and vows to learn the truth about what happened.

But the closer she gets to uncovering the mystery, the closer she also gets to realizing a frightening reality about herself and the damage she truly sustained in that Chicago alley….


Psychological thrillers always intrigue me so when I first seen this, I knew it was one that I was going to have to read. It sounded so sinister and the feral cat aspect just made it seem even more creepy so I was looking forward to picking it up.
First things first: the characters just didn't thrill me in Feral. And I mean all of them. Claire seemed overly hostile, although that's explained towards the ending of the book, but her attitude in general just didn't sit well with me. I liked Rich well enough, because he was kind and was a good friend to Claire but overall none of the characters stood out or wowed me and even now, just a few days after reading it I can't remember some of them.
The plot was interesting and definitely intriguing. Initially I thought it was too much like The Lovely Bones for me to like it, with the few chapters from Serena, but I realized quickly that wasn't really the focus of the book. I did have some issues throughout the book but I can definitely say it was intriguing because I constantly found myself wanting to pick this one up over my other read.
I think the main reason Feral didn't wow me was the fact I knew what the main plot point was shortly after she arrived in Peculiar, so basically the beginning of the book. It was just so obvious to me what was happening with Claire and that took a lot away from the mystery element of the book.
The characters were also fairly predictable. I wish there was more mystery shrouding the characters, but it was obvious who were involved in the big reveals at the end. That also took away from the story for me because I would have liked for it to be a bit more hard to decipher seeing as how the premise was their to really make this book mysterious, I mean the town is weird!
By the end of the book I also found the Serena parts to be just awkward. That entire storyline was very disjointed and by the end of it, it just felt strange. I could see how it played into the overall suspense of the book but when you realize what is actually happening at the end… it doesn't feel like it fits right.
Overall, Feral was an interesting and intriguing read but if you are one to guess the endings of stories, it won't be hard for you to see through this one.