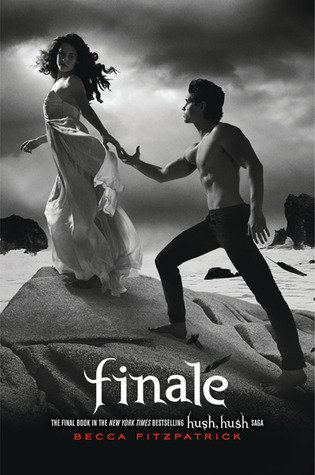 Finale
by
Becca Fitzpatrick
Series:
Hush Hush Saga #4
Published by
Simon & Schuster Books for Young Readers
on October 23rd 2012
Pages:
464
Source:
Purchased at Coles
Add on Goodreads
Amazon•Kobo•TBD My Rating:
Nora is more certain than ever that she is in love with Patch. Fallen angel or no, he is the one for her. Her heritage and destiny may mean they are fated to be enemies, but there is no turning her back on him. Now Nora and Patch must gather their strength to face one last, perilous trial. Old enemies return, new enemies are made, and a friend's ultimate betrayal threatens the peace Patch and Nora so desperately want. The battle lines are drawn—but which sides are they on? And in the end, are there some obstacles even love can't conquer?

There is a small piece of my heart that is gone knowing that this series is over. I had a lot of reservations going into the Hush, Hush saga. I was just discovering the book blogging community, I hadn't read a lot of young adult and certainly hadn't read any books about fallen angels before. When I looked it up on Goodreads so many people were saying negative things and giving it poor reviews I thought for sure I wouldn't like it. Once I read A Need so Beautiful by Suzanne Young I realized I really did in fact like angel books so I swallowed my reservations and just decided to pick it up. And I didn't stop until I finished Silence. Holy Smokes… I fell in love with this series, I fell in love with Patch and I fell in love with Becca Fitzpatrick's writing. I didn't do a review on Crescendo and Silence as they more or less blended together as the same book for me… I literally dropped one and picked up the other. And I'm sad to say… now I have to review Finale. The last one. A closed-door 🙁
When I say I was highly anticipating this book, that is no stretch of the imagination. As soon as the book was in my hands I started reading it. This was the one for 2012 for me… and then about 2 chapters in I had a small debate with myself: did I really want to finish this? Maybe I'll just wait awhile… to keep the story alive. Needless to say, I didn't stop(obviously… I can't resist the urge to read about Patch when it's right in front of me) and I sucked up the whole book.
Becca Fitzpatrick is back at it with her incredibly easy to read writing style. I absolutely adore her writing… it doesn't even feel like you are reading and then suddenly 3 chapters are gone.
Finale leaves where Silence finished… with no break in between, It's literally the very next day. Nora is now Nephilim and has sworn an oath to lead the Black Hand army. Nora of course doesn't want to go to battle as her boyfriend, Patch is a fallen angel and she is not turning her back on him. Finale goes on to tell of Nora's training, and discovering more of the Black Hand's mysteries.
I liked Nora the best in Finale. She is much stronger and definitely not as whiny. She is not my favorite character but she doesn't display that annoying weakness that she does throughout the first three books. Patch of course, is absolutely perfect. Scott is amazing in this book… I absolutely adore him. He is so sweet to Nora, and him and Vee have a little something-something. And Vee… oh my Vee. She was my favorite from the get go, she is so spunky and has such a wicked attitude. Well… Vee is back and better than ever for the final book, with secrets of her own 😉
There was certainly a few flaws in Finale. Two that I can name specifically and they are only the real ones that stand out. But… I can't tell you either of them because they are major spoilers and would defeat the purpose of reading the book as they take place at the very end.  One of them made me happy that it was done but completely pointless and felt like it was thrown in nonetheless, the other I cried and cried and cried because it was not necessary and hurt my heart. That's all I will say. Despite those flaws, this book is still 5 out of 5 for me. I thought the ending, or at least what I was wondering the most about the ending was completely satisfying and it was a perfectly acceptable ending for one of my favorite series of all time.
Becca Fitzpatrick made me fall in love with Patch, made me fall in love with Nephilim and most of all… she made me fall in love with Fallen Angels. Now as soon as I see a fallen angel book, it's a must read. I'm so crushed that this series is over, but so happy I read it.
Sidenote: It sounded like I just gave a Eulogy. Bahahaha.