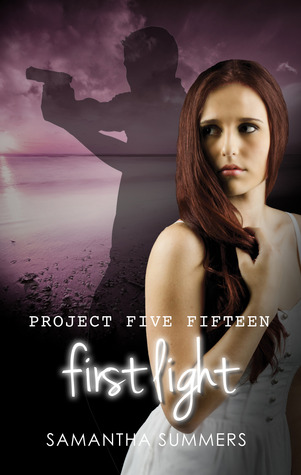 Pages: 367
Published: May 12th 2012 
Series: Project Five Fifteen #1
Source: Provided for tour review
A government experiment. Sixteen teenage boys on the run. An innocent young girl caught in the middle. When Ronnie Rose meets the handsome and alluring Kalen Smith, she can tell there's something he's hiding – something dangerous. But in trying to uncover his secret, Ronnie is plunged into a terrifying world she isn't prepared for… and the consequences could be deadly. Can we choose who we fall in love with?

First Light was sooo much different from what I expected it to be. First off, I was overwhelmed by how incredibly sad I was immediately. The main character, Ronnie, has just lost her father… is basically alone as her sister is flighty and is always off with her boyfriend or partying and even her best friend has left her alone. The fact that Ronnie has just lost her father got to my core, it made my heart twist for her.
I absolutely adored Ronnie. I thought she was a great main character; incredibly strong and determined especially for someone so young that was just faced with quite a bit of despair. I also adored Kalen. At first I thought he was strange but, oh my, I loved him by the end of this book. He comes off as so cold but yet so loving by the end of First Light. I also absolutely adored the boys, Denver, Nash, Ace… I can't explain how much I loved them especially Ace. I hated Laith… he instantly made me feel uneasy and I couldn't trust him.
When I first started reading First Light I thought the story was a bit unbelievable. A government conspiracy? A young girl who is recently orphaned allowed to live in her house by herself? Come on… but the more I read the more I forgot about those things and instantly feel in love with the characters and was completely addicted to the story. It's a fly by the seat of your pants type of novel and there is barely a moment without action.
I adored Samantha Summer's writing, it was soooo easy to read and I felt more like I was in the story, not reading it. I dove into the second book immediately… you have no choice, it ends in such a way you NEED to pick up As You Were! I highly recommend First Light, wonderful start to an exciting thriller series 🙂