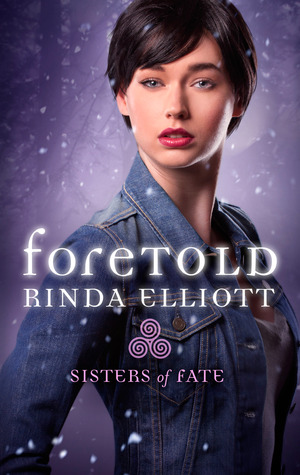 Pages: 310
Publication: April 01st 2014 by Harlequin Teen
Series: Sisters of Fate #1
Source: Harlequin Teen via Netgalley

It is written that three Sisters of Fate have the power 
to change the world's destiny. 
But only if they survive…

The Lockwood triplets have had the prophecy drummed into their heads since birth. Still, Raven, the eldest of the sisters, can't believe it's really happening. She's the reincarnation of a Norse goddess? One of the sisters is destined to die? When it starts snowing in summer in Florida, the sisters fear the worst has come to pass. Ragnarok, the Norse end of the world, has begun.

Raven finds herself the secret protector of Vanir, a boy with two wolves, a knowledge of Norse magic and a sense of destiny he can't quite explain. He's intense, sexy and equally determined to save her when it becomes clear someone is endangering them. Raven doesn't know if getting closer to him will make a difference in the coming battle, but her heart isn't giving her a choice.

Ahead of the sisters is the possibility of death at the hand of a warrior, death by snow, death by water or death by fire.

Or even from something else…

Sisters of Fate
The prophecy doesn't lie: one is doomed to die.


I was so eager to start Foretold; I am really enjoying mythology as of late and Norse mythology is something that I know little about. The premise sounded awesome and I was expecting to fall head over heels for this one!
Foretold is the first book in the Sisters of Fate trilogy and it follows Raven, the eldest of the triplets. The Norse goddess that is inside of her gives her visions of the past. I honestly don't really know what to make of Raven. I did like her as she certainly wasn't a unlikeable character, but unfortunately I was just completely detached from her. The entire point of the books is that the triplets have this destiny and that one of them will die but they have no idea who it might be. There were times during the story that I thought it might be Raven but I was just entirely impartial to it. The reason being I think was because there wasn't a lot of character building. Raven is a strong girl going into the story, and she maintains that strength throughout the story so it's not like she grows into it. You are given a fast track summary of why she is where she is, and a little bit of briefing about the girls childhood but nothing in-depth. Also Vanir, the warrior that Raven seeks out, is the same. I did really like him, but I was just entirely detached from his well-being. It's unfortunate, because I really think that took me away from the story a bit.
The story however, I was immediately drawn into. If you like fast paced, you will get it with Foretold because you are literally thrown into the beginning of the end of the world so everything is going at top speed. The entire span of the book is about 3 or 4 days and you are spun through them. I loved learning about Ragnarok, which is the Norse end of the world, and the Gods and Goddesses. I thought the explanations were good, but not overwhelming. I didn't get a huge dump of information, just enough that I knew what was happening, but also didn't feel the need to Google anything. I also loved how the warrior boys each had certain characters of the Gods, it was really interesting and kept the story attached to its original mythological roots.
The main problem I had with Foretold, and honestly is the only reason I didn't rate it four stars was the insta love. Now, I do not get overall upset with insta love normally. I am not a huge fan but often I overlook it and it really doesn't strike a nerve with me like it does with some. BUT … it was SO prominent in Foretold. It was such a HUGE part of the story and I just kept thinking, "This is ridiculous". Like I said above, the entire story takes place over about 3 or 4 days and by the end of the book Raven and Vanir are completely in love with each other. I knew they were going to be, so I expected a bit of romance, but it was borderline ridiculous because within 12 hours they were completely addicted to each other. Even Vanir's brothers commented on it! Although, I suppose if it's opening wrote about being sudden that it was supposed to be like that, but I just couldn't get invested in the love aspect of the story. I will probably enjoy it more in the second book though because I know what to expect going in.
The battles and the end of the word shenanigans were probably one of my favorite aspects of the novel. There were so many things being thrown at you, and so much craziness: Loki, Giants, Ice Arrows .. it was awesome and there were times I was on the edge of my seat because I had no idea what was going to happen from one scene to the next!
All in all, Foretold was a really good start to a series that I will definitely be continuing. Now that I know what to expect with the characters and romance, I'm sure I will enjoy the second book a lot more. If you need a book that is fast paced and essentially plot driven, you really should give this a try. The mythological aspect was fantastic and I can't wait to read Carol's story!